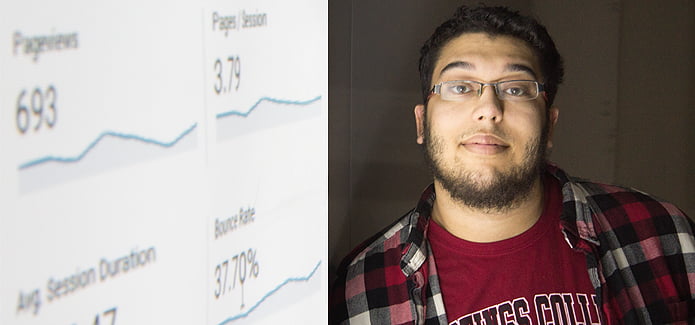 Dan Bredow, a senior web communication design major from Omaha, Nebraska, is not the same student that first enrolled at Hastings College nearly four years ago.
From a first-year student unsure of his undergraduate major and future career path, to a senior on the cusp of entering the real-world web industry, Bredow has transformed into a qualified professional. And he has the certifications to prove it.
Bredow recently completed an exam assessing his knowledge of Google Analytics, earning his official certification in the web analytics program. This certification — only held by about 2,500 other Americans — acts as a testament to Bredow's ability in his industry.
"You don't get Google Analytics certification unless you're an expert," said Brett Erickson, Bredow's academic advisor and an associate professor of communication arts at Hastings College. "Companies will hire you just based on the fact that you are certified because it is very hard to get."
To receive the certification, all recipients must take a rigorous exam about the Google Analytics program. Certifications are only offered to individuals that receive and 80 percent or better on the exam.
Finding direction in the web world
Bredow began studying for his exam late in his sophomore year, earning his official certification in Google Analytics in the fall of 2016. Just a few months prior, though, he was still uncertain on what path his professional life might take.
After spending most of his first year in a different major, Bredow decided to move in a new direction and instead become a web communication design major.
"Dan started taking my web classes as a first semester sophomore. He really struggled finding where he wanted to be," Erickson said. "Web is so diverse that people have to find where they fit."
Erickson shared several tools for the web industry with his students, covering topics from graphic design, to HTML coding, to online branding. Once the class dove into website analytics, Bredow found his niche.
Website analytics focuses on interpreting data about the visitor traffic to a website to guide the site's operations. If a company understands who visits its site, how those visitors get there and why they are coming, it can tailor the website to match the habits and demographics of its target market.
"You're making decisions from the data to figure out what it means and how it fits into the big picture," Bredow said. "I decided to stick with that because I really like the concept behind it."
Erickson noticed Bredow's interest in analytics, and introduced him to Google Analytics Certification. In what may be viewed as a surprising move for a student who was still searching for direction, Bredow decided to independently pursue the certification.
Bredow will be the only Google certified student to graduate from the Hastings College web program, an honor that exemplifies his journey from an undecided underclassmen to a qualified professional ready to enter the job market.
"The Dan of today and the Dan of three years ago are entirely different human beings," Erickson said. "Of all of my web students — and they are very impressive students that I'm really proud of —  Dan is perhaps the one I am most proud of in terms of how much growth he has demonstrated in the last few years."
By  Mallory Gruben, a junior from Eckley, Colorado, majoring in journalism