When Kevin Wright first started attending Hastings College, he was interested in becoming a practicing physician. His freshman year, Wright was able to secure himself an internship at the Centers for Disease Control and Prevention and was introduced to the field of public health. His ideas of becoming a physician began to change.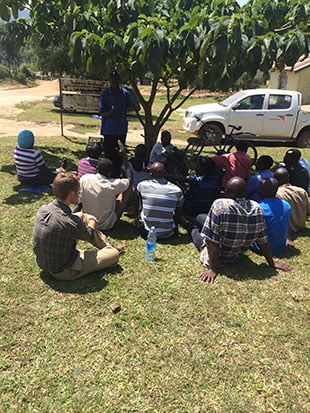 A 2013 biology graduate, Wright was able to take advantage of the liberal arts aspect of Hastings College and branch out with his classes in order to gain a fuller understanding of health policy. By taking a public policy analysis course with Dr. Robert Amyot, associate professor of political science, Wright was able to learn about the importance of understanding both data and persuasive arguments.
"I think I was one of, if not the only non-social science student in class," Wright said. "It really helped me with the importance in policy of not just having the numbers and data on your side, but also making your case politically and persuasively. In science, it's generally enough to have data on your side, but for good policy you need both data and a persuasive argument."
His interest in health policy continued to grow as a student at Johns Hopkins University in Maryland. As a student, he had the chance to intern with the deputy secretary of health during the state legislative session. In the field of health policy, Wright felt he could make more of an impact, rather than seeing individual patients as a physician.
"Health policy is where the funding priorities for all health care programs are determined," Wright said. "So it's been a transition from the micro to the macro. I'm more of a big picture person now."
Wright graduated from Johns Hopkins University in 2015 with a Master of Science in Public Health. From there, Wright was required to take part in a practicum placement. The requirement asked that Wright take what he learned in the classroom and apply it with his master's thesis to show his skills in public health.
"The field of public health, and Hopkins, in particular, is very interested in hands on, practical experience, and that really drew me to the program," said Wright. "No matter what you learn in the classroom—for example, international health—it really can't compare to the real experience and practical challenges you face in the field."
Having just finished classes, Wright wanted to use his skills where they would be helpful, so he applied for a position in Uganda. He was accepted to work as a Global Health Fellow for World Vision International in the maternal and child health program.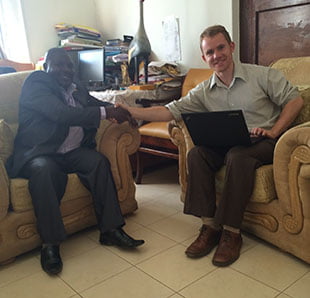 World Vision International is a Christian organization focused on children, families and communities, and helping them overcome poverty and injustice. Wright spent four months working with the in-country staff from World Vision on statistical analysis to help inform staff, funders and government officials about their program and help them improve it. The goal was to use a specialized statistical modeling program, partly developed at Hopkins and something Wright was trained on, to assess the impacts of their interventions in Uganda up to that point.
With a liberal arts experience at Hastings College, a degree from Johns Hopkins University and a four-month long trip to Uganda, Wright has been equipped with the skills necessary to work in health policy. Wright now works at Jennings Policy Strategies where he works with clients including think tanks, Fortune 500 companies and foundations to improve prevention and health activities, clinical care and funding mechanisms for health programs.
"In my job I have to be able to read and summarize technical scientific journal articles, understand economic analysis and more, all in the context of the political environment," said Wright. "If I was a biology major coming from a school that didn't require and encourage taking courses in other disciplines, I would not have the skills and knowledge to succeed in the health policy field."
By Amanda Miller, a senior from Woodland Park, Colorado majoring in journalism