Joe Black's workplace, the Stuhr Museum of the Prairie Pioneer in Grand Island, Nebraska, is like no other.
With sites and exhibits spanning 200 acres, the museum takes visitors back in time to the days when pioneers and Native Americans lived and struggled on the Plains.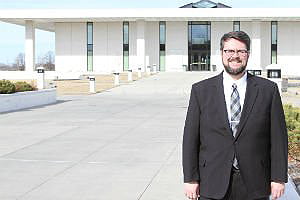 Guests discover an authentic 38-foot Pawnee Indian earth lodge with buffalo grazing nearby. A settlement of authentic log cabins. A sheep ranch. The powerful Union Pacific Engine 437. And an 1890s railroad town where costumed interpreters hammer hot iron in the blacksmith's shop, sell old-fashioned candies and pickles at the Mercantile, and welcome you inside actor Henry Fonda's boyhood home.
It should come as no surprise that the Nebraskan Tourism Commission named the Stuhr Museum "Outstanding Tourism Attraction" for 2016.
"We had an amazing year last year, and we thought we had a good case for the award with the growth we had," said Black, a 1997 Hastings College graduate. "Our internal staff wrote an application to the commission, pointing out what a great year we had, so the award came, and it came in the most competitive category. We have some great attractions in Nebraska, so to be named the best in the state was a nice award for us."
The Stuhr Museum recently completed a 10-year, $7.4 million renovation of its Stuhr Building, an iconic, concrete structure containing a variety of historical exhibits. The Nebraska Tourism Commission, in presenting its award, lauded Stuhr as attraction that "will continue growing and be a community icon for years to come."
Providing a link to the past
Black began working at the Stuhr Museum as an intern immediately after graduating from Hastings College with majors in history and religion.  He focused primarily on researching fire departments throughout Nebraska history. From there, he began successfully climbing the ranks at Stuhr. He took positions as a curator in charge of exhibits and then became Interim Director. In 2004, he was named Executive Director.
Black oversees the vast complex of the museum, which holds more than 100 historic structures and operates on a budget of $1.4 million. He also supervises a staff of 75 and more than 350 volunteers. In 2016, nearly 70,000 people from 49 states and 18 foreign countries visited Stuhr, a 26 percent increase from the year before.
Black attributes his education at Hastings College to preparing him for a successful career as a museum administrator.
"I was a history major, so I was very lucky to get a job in the field. The importance of the lessons of history is something I use every day," he said. "I was also a member of the forensics team, so that ability to be comfortable speaking to the public has helped a lot. So much of what we do in the nonprofit world is making a case that what we do is important."
Connecting through the liberal arts
Black, who helped coach Hastings College's forensics team for eight years after graduating and is married to Hastings College Professor of Economics Dr. Amy (Quist) Black '90, is a true believer in the power of the liberal arts.
"Everything inside and outside the classroom feeds into each other. That's what the liberal arts does well," Black said. "It's not just these things that stand alone. They work together and make things richer. I've been a guest speaker in some classes at Hastings College, and there's nothing like it."
By Jake Konen, a senior marketing major from Hastings, Nebraska