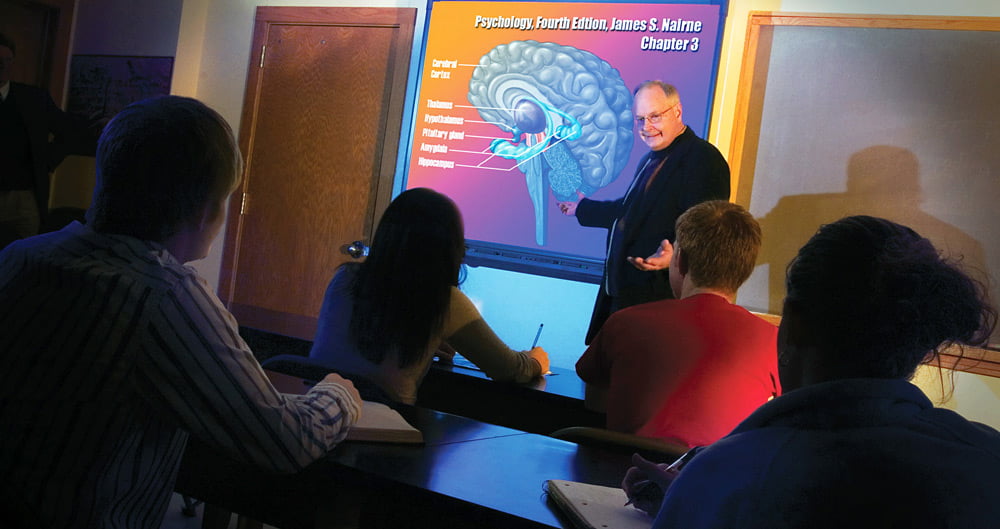 As a professor, pastor, counselor, coach, father and husband, Dr. Lee R. Wigert might be the exact definition of a man who wears many hats — or maybe he just wears the same hat many different places.
Wigert's numerous callings, including 30 years of teaching at Hastings College, share a common thread: It's all about relationship, whether he's connecting with a classroom, a congregation or a counseling client.
Hastings College students say it's the relational aspect that makes Wigert special and one of the things they will miss most about him as he retires at the end of the 2018-19 school year.
"Dr. Wigert is easily one of the nicest professors on campus at Hastings College," said McKenzie Currey, a senior who will graduate in May. "I appreciate the fact that although he is my professor, he never makes me feel like I'm any less than him. I know I could go to him if I ever needed anything. And that doesn't make him just a great professor, that makes him a genuinely kind person."
'Time was right'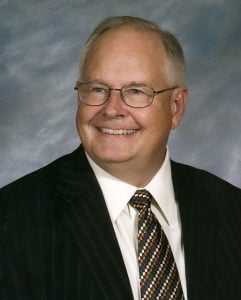 Wigert, 67, said he had planned to retire at age 70 — but that was before his wife Diane retired last May, before the couple's youngest son Nathan Wigert '08 decided to continue his education in Omaha and before the announcement that the Wigerts' first grandchild was on the way to son Ben Wigert '06 and wife Christine (Bryant) '08 of Omaha.
"The time was right this year," Wigert said.
As he departs HC, he'll also be stepping down from the pulpits of three area churches. He's been offered a pastorship at a church in Plattsmouth, Nebraska, and an adjunct professor position at the University of Nebraska–Omaha.
Wigert grew up in Alliance, Nebraska, and graduated from Hastings College in 1974 with a degree in psychology before earning a master's degree at the University of Nebraska–Omaha. He continued on to seminary, earning a Master of Divinity degree in psychiatry and religion, and then a Doctor of Ministry degree in Systems Theory, Counseling and Theology. He later earned a doctorate degree in Personality and Social Psychology.
Bringing real world to classroom
Wigert joined the Hastings College Psychology Department in 1989, teaching well-known courses like "Introductory Psychology" and "Psychology and Spirituality." Students have high praise for Wigert's teaching style, which famously carries a positive tone.
"I know for a fact each day I was in his class I would laugh at least once," said senior biology major Brock Rathman. "His ability to bring humor and joy into a room is remarkable."
But beyond an enjoyable classroom experience, Rathman said he never learned more from a professor. "His lectures don't just include the material for the day. He is able to work in life lessons and plenty of stories. He made the content we learned in class meaningful."
Wigert calls it storytelling-style teaching. "I preach every week and counsel out in the real world, so I bring the real world to the classroom every day," he said. "If they can relate to the story, they'll relate to the material connected to it."
Thousands of students have reaped the rewards of Wigert's real-world lessons, whether they sat in his classroom as psychology majors or just to fulfill a graduation requirement.
"After every single lecture of his, there has not been a time where I haven't felt better about humanity and about the life that I'm living right now," said sophomore Danielle Lizarraga.
Wigert said his reward as he leaves Hastings College is three decades of meaningful relationships.
"The main thing I enjoyed was my students," he said. "I have enjoyed helping them to grow and to change, not only academically but personally — helping them with some life choices and helping them to focus on the meaning of life."
By Amy (McGraw) Palser '99