Senior Cale Buhr spent summer 2014 as a special events and entertainment intern for the Nebraska State Fair.
The Trumbull, Nebraska native who is majoring in communication studies and minoring in advertising/public relations assisted the Special Events and Entertainment Director with various tasks throughout the summer.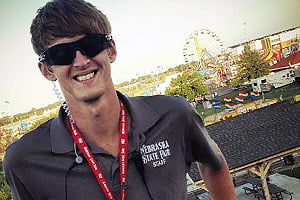 Buhr spoke highly of the relationships that he created over the course of this summer. His duties included creating and uploading content to the website and the 2014 Nebraska State Fair Gatebook – the fair's master schedule. He also attended meetings with the various department directors and facilitated various events.
"The best thing about my experience at the State Fair was all of the connections I made and people that I met," he said. "I had the privilege and opportunity to develop relationships with my coworkers, business leaders, [state fair] board members and vendors. Each relationship was unique and created a friendship and connection that still lasts after the fair is over."
One of Buhr's favorite memories from this summer was receiving a meet-and-greet pass for Brantley Gilbert. This treat came as a surprise from Buhr's boss an hour before the event.
Helping with certain events, including Nebraska's Largest Classroom and County Fair Day, gave Buhr confidence in his field.
"I enjoyed helping with these events because they gave me responsibility that instilled confidence in me."
This served as Buhr's first internship. He attributes much of his success to Hastings College and Career Services.
"Hastings College was great in preparing me for it," he said. "I found out about this internship through Career Services where they helped me with my resume and cover letter."
Written by Maggie Meisinger, a senior from Littleton, Colorado.