October 17 is Hastings College Together Tuesday, a day when the College's entire community from all over the world comes together to support the 1882 Fund, the College's annual fund. And with $200,000 in challenge funds to unlock, the day promises to be a fun and rewarding day that provides essential resources and scholarships for students.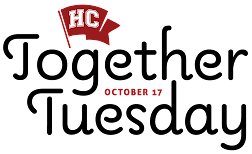 Alumni, friends, parents and donors can schedule a reminder email or text message to make a gift on Together Tuesday at hastings.edu/togethertuesday, and then return on to that page October 17 to make a gift and help unlock challenge funds. Donations will be counted in real time, with unlocked challenge funds being added to the total.
"Hastings College Together Tuesday supports the 1882 Fund, which is our annual operational fund that supports the College in so many ways. It really puts donations to work right where they are needed most," said Chelsea LeMar '07, executive director of the Hastings College Foundation. "The 1882 Fund provides essential resources that make a difference for students every day, from scholarships and student services to research and instruction to athletics and facilities. It makes a difference in every area of campus."
LeMar said Together Tuesday donors help unlock challenge funds by making a gift of any size during the day. "We very much appreciate those who stepped up to contribute to this year's challenge funds," she said. "It really helps create excitement for the day as challenges worth $10,000 or more are unlocked."
The Hastings College Foundation is also organizing two events during Together Tuesday as a way for alumni, parents and friends to gather and celebrate the day. Staff will be on hand to accept gifts for Together Tuesday at both events.
On campus between 11:00 a.m. and 1:00 p.m., Hangries, The Big Pig and Special Scoops food trucks will be parked behind Scott Studio Theatre for the community and students to enjoy, with and Howdy Mae joining at noon. Starting at 11:30 a.m., the Hastings College Foundation will host a pumpkin drop in the parking lot area. A limited number of participants will be chosen to ride to the top of a scissor lift and drop a pumpkin to be smashed on targets below. Entry tickets for the drop will be available for cash-only purchase during the event.
From 5:00 to 7:00 p.m., alumni, friends and donors are invited to Steeple Brewing Co. (717 W. 1st Street in Hastings) to purchase and enjoy a pint of the Hastings College-themed brew, Circuit Rider '82, or any other beverage. Steeple will donate $1 per pint and $2 per carry-out back to the Hastings College Foundation.
Hastings College is a four-year residential college that focuses on student academic and extracurricular achievement. Discover more at hastings.edu.