Upon recommendation of the Alumni Association, Hastings College presented 1981 graduate Dr. Douglas Throckmorton with the 2017 Outstanding Alumni Award on Tuesday, August 22. The award recognizes Throckmorton for his contributions to public health and safety with his work at Food and Drug Administration (FDA).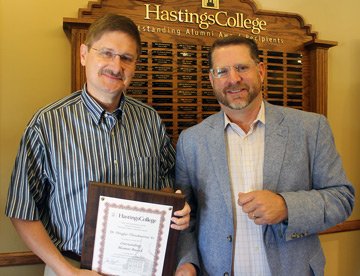 The Outstanding Alumni Award honors Hastings College alumni who have made significant achievements in their professional or personal live, made a significant contribution to society through personal leadership and service and has demonstrated leadership in support of the advancement or welfare of Hastings College. With this recognition, Throckmorton joins a list of Outstanding Alumni that includes Dr. Tom Osborne '59, Dorothy Weyer Creigh '42 and Clayton Anderson '81.
Throckmorton is the Deputy Director for Regulatory Programs in the Center for Drug Evaluation and Research (CDER) at the FDA. In this capacity, he oversees the regulation of pharmaceutical drugs sold in the United States, including the processes for research, development, manufacture and marketing. His primary focus is to ensure these drugs are safe and effective.
Throckmorton's work at the CDER helps inform the Department of Health and Human Services as regulatory and educational strategies are developed to combat the misuse and abuse of prescription drugs. He has also spoken before Congressional committees and subcommittees as an official for the FDA.
Throckmorton studied Chemistry and English at Hastings College, later earning his medical degree from the University of Nebraska Medical School. He has been employed at the FDA since 1997 and was appointed as CDER's deputy director in 2004.
Throckmorton comes from a family filled with Hastings College alumni. Both of his parents, Alice Lynn (Swanson) and the late Dr. Carl Throckmorton, who taught mathematics and physics at Hastings College from 1963 to 1995, graduated from Hastings College, as did Doug's five siblings.
Hastings College is a private, four-year institution located in Hastings, Nebraska, that focuses on student academic and extracurricular achievement. With 64 majors and 15 pre-professional programs, Hastings College has been named among "Great Schools, Great Prices" by U.S. News & World Report and a "Best in the Midwest" by The Princeton Review. For more, go to hastings.edu.