The Hastings College chapter of the Society for Collegiate Journalists (SCJ) inducted eight new students and named Dr. Bruce Batterson, Hastings College associate professor of business administration, a lifetime member of SCJ.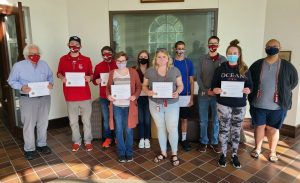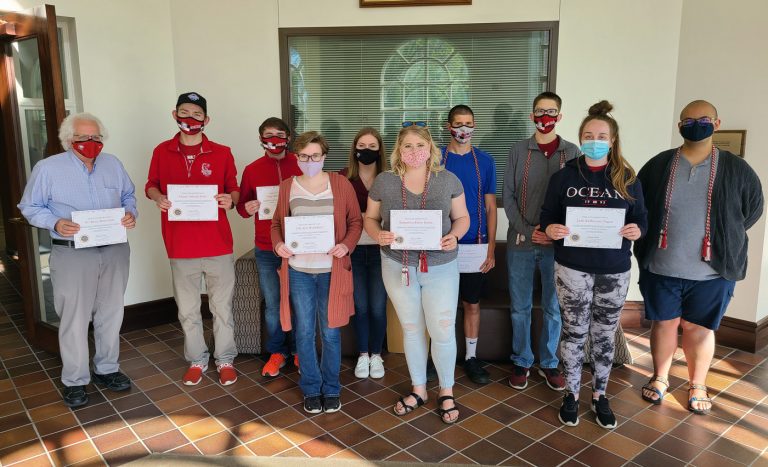 SCJ is the nation's oldest honor society for student media leaders. With more than 100 active chapters nationwide, SCJ focuses on professional development at the collegiate level by advancing ethical, accurate and innovative collegiate journalism nationally and creating a strong network of advocates for First Amendment education.
The Hastings College chapter was established in 1937 and is one of the longest continuously serving chapters in the country.
Students inducted into the Hastings College chapter of SCJ include:
Samantha Burke, a senior from Denver, Colorado
Leah Dugan, a junior from Omaha, Nebraska
Taylor Lipinski, a senior from Grayslake, Illinois
David Loomis, a senior from Pratt, Kansas
Lilly Nelms, a sophomore from Overton, Nebraska
Chase Rath, a first-year student from Thedford, Nebraska
Sage Reiger, a senior from Fremont, Nebraska
Effy Widdifield, a junior from Grand Island, Nebraska
Batterson was given the honorary lifetime position in recognition of his outstanding contributions and support with broadcasts for the campus, community and alumni of Hastings College.
Hastings College is a four-year residential college that focuses on student academic and extracurricular achievement. Hastings' student-centered initiatives include providing books, an iPad and a two-week study away experience at no additional cost. A block-style semester schedule allows professors and students to focus on fewer classes at a time and promotes hands-on experiences. Discover more at hastings.edu.