Hastings College and Hastings Public Library are partnering to bring the internationally-recognized poet, educator and podcast host, Sierra DeMulder, to Hastings for a workshop and public reading on Saturday, September 23.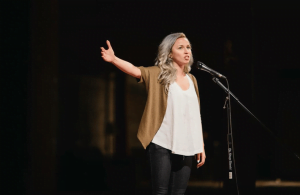 DeMulder is a two-time National Poetry Slam champion, a five-time published author and the co-host of Just Break Up, a globally popular advice podcast that has been downloaded more than 4 million times. Her most recent collection of poetry, Ephemera, was published by Button Poetry earlier this year.
DeMulder will be leading a workshop at 2:00 p.m. at Hastings Public Library. Participants should register online at www.hastingslibrary.us. DeMulder will then perform at Hastings College at 7:00 p.m. The performance is in Fuhr Hall and free and open to the public.
Rylie Felton '22, library experience assistant at Hastings Public Library, has been a long time fan of DeMulder's poetry and was mentored by DeMulder at a summer camp for slam poetry during high school. Felton's passion for poetry continued during her studies as an English major and writing minor at Hastings College, leading to her current role in developing programming at Hastings Public Library. Felton reached out to faculty in the Department of Languages and Literatures over summer for support in bringing DeMulder to the community.
Hastings College is a four-year residential college that focuses on student academic and extracurricular achievement. Discover more at hastings.edu.