The 2017 Senior Thesis Art Exhibition will showcase the talent of three Hastings College seniors April 3-21 in the Jackson Dinsdale Art Center (JDAC). The artists will give a lecture on their work Saturday, April 8, at 1:00 p.m. in the Wilson Center (714 E. 9th Street), with a gallery reception to follow in the JDAC.
The showcase includes paintings created by Kirsten Berns of Hastings, Nebraska; mixed media pieces created by Vanessa Cox of Grand Island, Nebraska; and resin-based paintings by Maria Lara, an international student from Venezuela.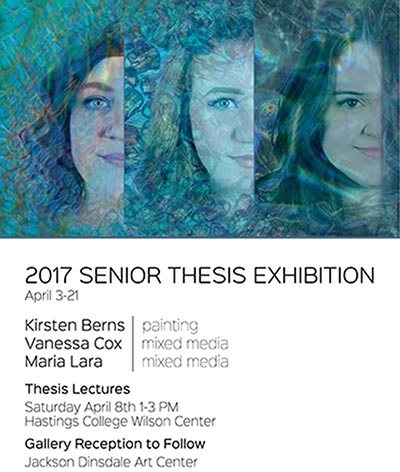 Berns' pieces follow the theme of "Transformation Through Tragedy."
"I am exploring the network of humanity and nature intertwining through tragedies and how we overcome destruction through transformation," she said. "I bridge these two identities together through the cellular image, both from nature and humanity."
Berns uses acrylic washes to communicate layers of growth that occur throughout humans and nature.
For "The Gingerbug House," Cox uses mixed media to explore the concerns of decreasing food sources.
"This show addresses the concerns of dwindling food resources in coming years and the potential for entomophagy (eating insects) to help future food security," she said.  "My pieces are multimedia paintings of desserts featuring real insects that I have farmed myself."
These first two exhibits are in the large JDAC Gallery.
Lara presents her thesis titled "Reflejo" in the student gallery off the JDAC lobby.
Lara's mixed media installation art allows viewers to enter the gallery and be consumed by the exhibit, which gives viewers a sense of being underwater while viewing 3D paintings of mythical aquatic creatures.
"I had created an environment where the viewer has the opportunity to reconnect with their childhood beliefs in the existence of mythical creatures and how those memories may have had a large impact in how their lives evolved," she said.
Gallery hours in the JDAC are 9:00 a.m. to 4:30 p.m. Monday through Friday, and noon to 4:00 p.m. on Saturdays.
Hastings College is a private, four-year institution located in Hastings, Nebraska, that focuses on student academic and extracurricular achievement. With 64 majors and 15 pre-professional programs, Hastings College has been named among "Great Schools, Great Prices" by U.S. News & World Report and a "Best in the Midwest" by The Princeton Review. For more, go to hastings.edu.