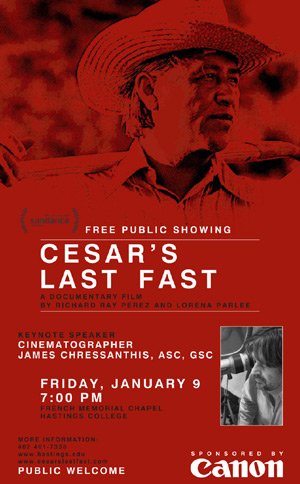 A free public showing of the documentary, "Cesar's Last Fast," a film about labor leader and civil rights advocate Cesar Chavez's 1988 Fast for Life, will accompany a presentation by filmmaker James Chressanthis, ASC, GSC.
The film and keynote address, scheduled for 7 p.m. Friday, January 9, in Hastings College's French Memorial Chapel (map), are part of the College's Artist Lecture Series, and the event is sponsored by Canon USA's Explorers of Light program.
About James Chressanthis
Chressanthis, one of the film's cinematographers, is a filmmaker who has earned a diverse range of nearly forty credits since the early 1990s, including studio motion pictures, independent features, television movies, episodic drama series and documentaries. His cinematography has been nominated for an Emmy twice: "Four Minutes," about Roger Bannister's quest to break the four minute mile barrier, and the acclaimed mini-series "Life with Judy Garland: Me and My Shadows." He also shot critical additional 1st Unit photography on the Oscar-winning Chicago. Other notable credits include "Urban Legend," the controversial mini-series "The Reagans," "3: The Dale Earnhardt Story," "The Music Man," "Eloise at the Plaza" and "Eloise at Christmastime" both with Julie Andrews, "Judas Kiss," "Brian's Song" and "American Horror Story."
His feature film directing debut, "No Subtitles Necessary: Laszlo & Vilmos," about the legendary Hungarian cinematographers and the American New Wave, premiered as an official selection of the 2008 Cannes Film Festival and has been seen in more than twenty-five film festivals worldwide culminating with a national broadcast on PBS and his third Emmy nomination. Chressanthis trained as a sculptor and today exhibits large mixed media digital prints and paintings when he is not shooting films.
About Cesar Chavez
Chavez, a devout Catholic and the most important Latino civil rights leader in American history, was committed to the principles of nonviolent protest and reform, like Martin Luther King, Jr., and Mahatma Gandhi. For more than three decades, Chavez led the first successful farmworkers union in American history. He led successful strikes and boycotts that resulted in the first industry-wide labor contracts in the history of American agriculture, and his union's efforts brought about the only law in the nation that protects the farmworkers' right to unionize.  In 1988, at the age of 61, he endured a 36-day Fast for Life to highlight the harmful impact of pesticides on farm workers and their children, and it is that event that is the focus of the film "Cesar's Last Fast."
Chressanthis' appearance is sponsored by Canon USA's Explorers of Light program, which emerged in 1995 as a broad-ranging initiative for photographic education and inspiration. Today, the program is comprised of dozens of the most influential photographers and cinematographers in the world, each a master of their creative specialty. The Explorers share their visual passions and technical expertise with eager audiences of photo professionals, hobbyists, and enthusiasts in a variety of personal appearances, seminars, and gallery showings through the United States. Examples of the Explorers' work may be found online at the Explorers of Light Gallery, as well as numerous museums, galleries and publications.
Founded in 1882, Hastings College is a private, four-year liberal arts institution located in Hastings, Nebraska, that focuses on student academic and extracurricular achievement. With more than 60 majors in 32 areas of study and 13 pre-professional programs, Hastings College has been named among "America's Best National Liberal Arts Colleges" by U.S. News & World Report, a "Best in the Midwest" by The Princeton Review and a "Best Buy in College Education" by Barron's.