With Hastings College alumni gathered for Homecoming weekend, the College's Alumni Association presented Andrew and Abi (Burrows) Vrbas with its Young Alumni Award during halftime of the Hastings College football game at Lloyd Wilson Field on September 30.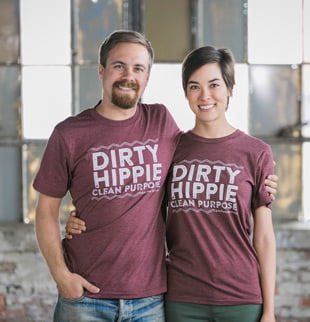 Andrew, a 2012 graduate, and Abi, a 2013 graduate, founded Pacha Soap Company in 2013. The business, based in downtown Hastings, has grown significantly and now employs more than 40 people who support Pacha's mission of creating livelihoods globally.
By purchasing the company's all-natural, environmentally safe and artfully crafted bath products, Pacha Soap's customers provide opportunities for others to free their entrepreneurial spirits and lift themselves from poverty around the world. The company supports these efforts by setting up soap shops, clean water initiatives and other sustainable ventures in developing nations.
Pacha Soap's roots go back to Hastings College when Andrew and Abi were students. Andrew traveled to Peru his sophomore year and became inspired to live a life with purpose. He began experimenting with soap making while living on campus, and the two would spend hours packaging soap in the Bronco Village Apartments.
While building their business, Andrew and Abi stayed connected to Hastings College by meeting with students to discuss entrepreneurship and launching a business with purpose, and how Hastings College has helped them in their career. Pacha Soap has also hired numerous Hastings College students as interns and staff. To learn more about the company, find a local retailer or buy Pacha products, go to pachasoap.com.
The Young Alumni Award is presented by the Hastings College Alumni Association to alumni who have made significant achievements in their professional or personal life (within 10 years of their graduation), made a significant contribution to society and have demonstrated leadership in the support in the advancement or welfare of Hastings College.
Hastings College is a private, four-year institution located in Hastings, Nebraska, that focuses on student academic and extracurricular achievement. With more than 60 majors and 15 pre-professional programs, Hastings College has been named among "Great Schools, Great Prices" by U.S. News & World Report and a "Best in the Midwest" by The Princeton Review. For more, go to hastings.edu.