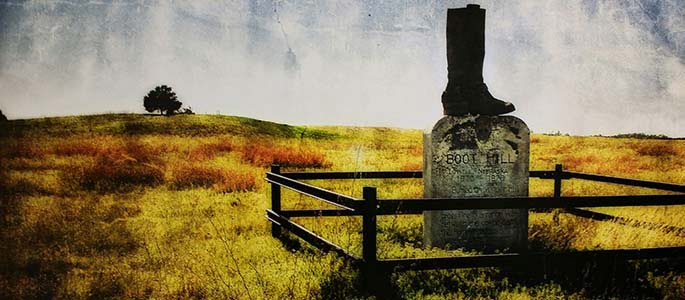 Photographers Brett Erickson, Dr. David Lovekin, and Rick Houchin will have their work displayed in the Recollections Show at Hastings College's Art Gallery (711 E. 7th St.) for the month of October.
The exhibit will kick off with an opening reception at 4 p.m., Thursday, October 1, at the gallery. The public is invited to this free event.
"This exhibit is an exploration of the ways we construct the memories, traditions, and truths we hold dear," said Erickson, Associate Professor of Communication Arts. "The 'Recollections' artifacts ask a profound question at this moment, at any moment, in history: Whose reality is this?"
Erickson earned his Bachelor of Arts in communication arts from Hastings College in 1995, and a Master of Arts in teaching in1999. His photographs and reports have been published by several media outlets including National Geographic, National Public Radio, American Public Media and Nebraska Educational Telecommunications. He currently teaches photography, journalism and online development at Hastings College.
Dr. David Lovekin, Professor Emeritus of Philosophy, retired from Hastings College in 2012 after teaching there since 1987. He attended Northern Illinois University where he received his master's and bachelor's degrees, and earned his Ph.D. from the University of Texas at Dallas. He has also published numerous essays on the philosophy of technology and culture and has received five National Endowment for the Humanities grants.
Rick Houchin, a journalist and photographer, initially set out with Dr. Lovekin to photograph unincorporated towns.
"When my friend and kindred spirit, David Lovekin, discussed with me the possibility of an art and documentary project about these disappearing wonders, there was little need for persuasion for either of us," said Houchin. "In addition to the humor and drama we found in these places, we also found an indomitable spirit of community."
Houchin also said this project is a journey not just to a handful of tiny communities, but a glimpse of where we've been, and perhaps where we're ultimately headed.
The gallery is open Monday through Saturday, 10 a.m. to 4 p.m. and on Sunday, 2 p.m. to 4 p.m. Visiting the gallery is free.