The "Erosion" exhibition, created by Jessica Heikes and Daniel T. Beck, is on display in the Jackson Dinsdale Art Center (700 E. 12th Street) now through November 30.
The gallery is open Monday through Friday from 9:00 a.m. to 5:00 p.m., and 9:00 a.m. to 1:00 p.m. on Saturdays.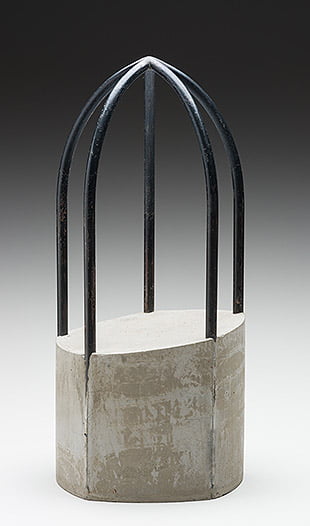 In this series, Heikes investigates how generations of women perceived their domestic roles. She considers situations where women felt pressure from family, society and/or traditions to surrender or suspend their aspirations for a domestic lifestyle.
"As humans, we are constantly managing our emotions and how we react to our environments and stimuli. I deliberately encase sections of clothing leaving details like buttons or collars to become the sole identifiers for the object. These once whole and life-filled articles of clothing are now flattened and obscured, foreign and incomplete. Through the manipulation of these personal items, I attempt to create visual metaphors for emotional conflicts that appear to have no resolution," said Heikes.
Beck, on the other hand, explains tools, machinery and patience it requires to shape steel keeps him always looking for small ways to perfect the efficacy of a particular process.
"I am drawn in by smooth and gentle lines, compelled to make forms that are soft and quiet. Cement and steel have a long history of working together in the construction of our built environment. Embedding steel inside cement creates a stronger structure, but what happens when the steel rusts, sheds it's layers and oxidizes? What happens to the cement surface when the skeleton deteriorates?" said Beck.
Heikes earned her BFA from Pittsburg State University in Kansas and later pursued post-baccalaureate studies in glass blowing and sculpture. Soon after she was accepted into the reputable Core Fellow Program at Penland School of Crafts in North Carolina, a two-year live/work program that provides access to several media-specific studios. Eager to focus on conceptual development, she turned to graduate school and earned her MFA from the University of Massachusetts Dartmouth.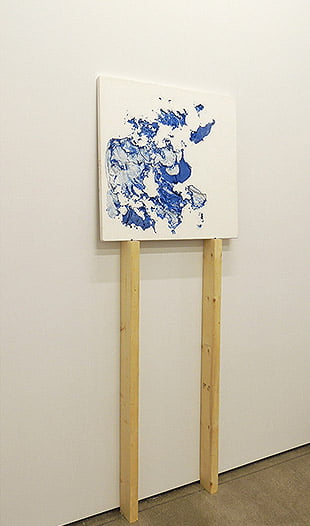 Heikes now resides in Kansas City, Missouri, and works full-time on a fabrication team creating traveling art exhibits for a non-profit organization. In her personal studio, her art practice is experiment based, combining plaster and clothing to capture emotional conflicts.
Beck earned a B.A. in studio art/art history from the University of Georgia, where he focused on metalsmithing and medieval Christian architecture. He has worked as a studio jeweler, carpenter, blacksmith, community mural artist, sculpture conservator, machinist and teacher. His studio practice includes hot and cold forging, TIG welding, mold making and concrete.
He has spent the last eight years at Penland School of Crafts in rural western North Carolina, where he is head of ironwork and sculpture. He has recently added iron and bronze casting capabilities to the school where blacksmithing and steel fabrication have been the predominant focus of programming. Beck has exhibited mainly in North Carolina including the Cameron Art Museum in Wilmington
Hastings College is a private, four-year institution located in Hastings, Nebraska, that focuses on student academic and extracurricular achievement. With more than 60 majors and 15 pre-professional programs, Hastings College has been named among "Great Schools, Great Prices" by U.S. News & World Report and a "Best in the Midwest" by The Princeton Review. For more, go to hastings.edu.