More than 70 gifted and talented students from across Nebraska spent June 24-29 challenging their minds as part of the Hastings College Scholars Academy (HCSA).
These 7th, 8th and 9th graders spent the week living on the Hastings College campus, learning hands on in one of three academic areas: Russian history, robotics and science.
Students in the Russian history program studied the creation of Russia, began learning Russia's unique language, came to understand Russia's unique form of Christianity and how a series of warrior princes paved the way for the absolute monarchs called tsars.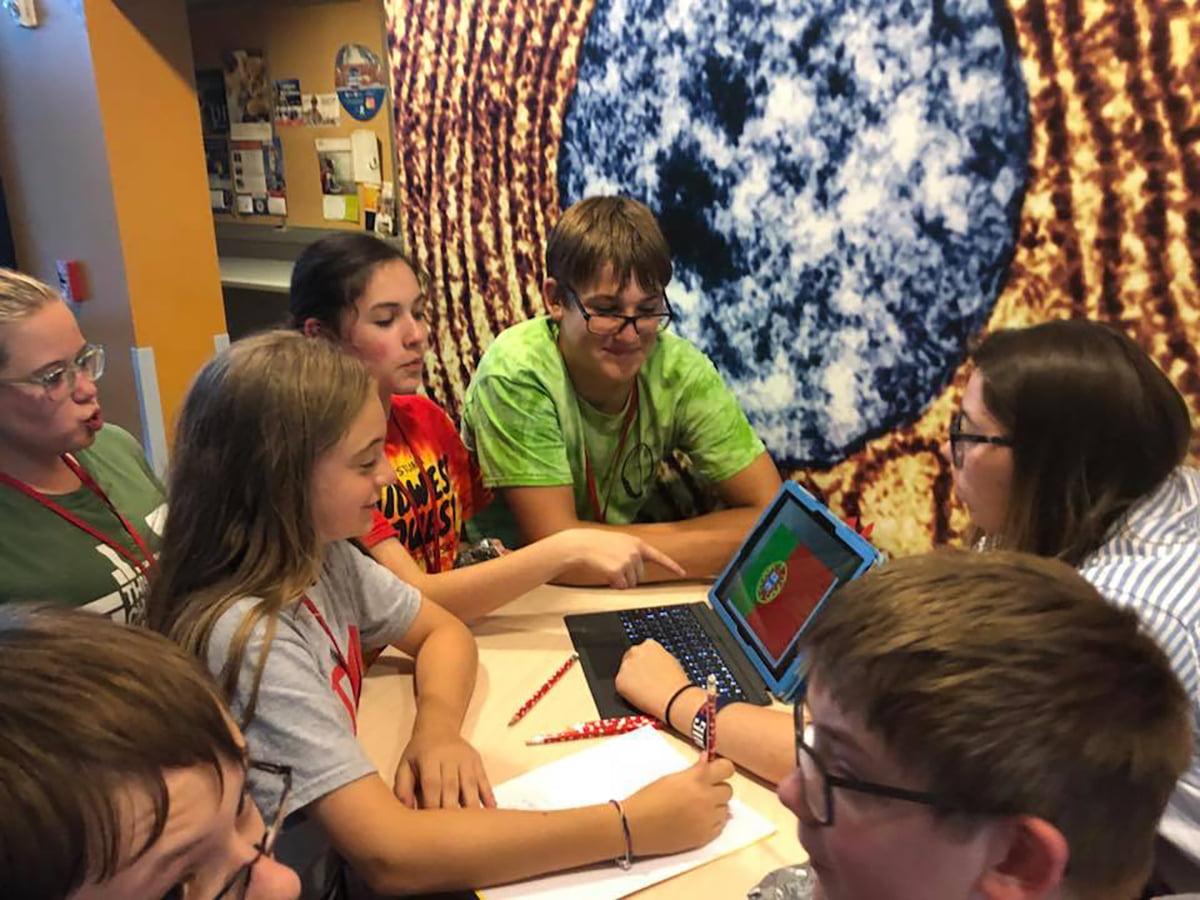 In the robotics program, students designed, built and programed robots in a hands-on classroom structure. Students began to learn the basics of coding via a LabView format. Highlights of the course included a battle-bot soccer game, the building of a Vincent Van Gogh Scribble Robot out of household material, learning 3D modeling software and associated 3D printing, design and development of a robotic hand and construction and launch of water bottle rockets. At the end of the week, students were challenged to use what they learned to successfully navigate a maze with the sensor attachments of a NXT robot.
In the science program, students studied nutrition and genetics. In nutrition, students explored food systems and learned how people get access to food. They visited places in the Hastings area and talked to individuals directly and indirectly related to the process of making sure food is wholesome and safe. In genetics, the class played with the inheritance of simple and complex genetic traits. In addition to exercises that distinguish genetic make-up from physical appearance, students isolated DNA from their own cells and other sources using PCR and electropho­resis, both techniques of modern forensics and molecular biology, to determine specific DNA make-up for the ability to taste a particular compound.
Students also had opportunities to make new friends with fun social and cultural activities. Students got a preview of college life by staying in a campus residence hall, eating in the cafeteria and interacting with college students who served as their resident advisors and social group leaders.
The 2018 scholars are listed below, by city.
Bassett
Kyra Anthony – Robotics
Brooklyn Buell – Science
Christopher Carpenter – Robotics
Mason Hagan – Robotics
Carson Shaw – Science
Hastings
Evan Amen – Science
Justine Bierman – Science
Kiernan Bierman  – History
Quinlan Braun – History
Sarah Diaz – History
Katherine Greenland – History
Jordan Head – History
Madeleine Johnson – Science
Andrew Matthies – Robotics
Raena Northrup – Science
Eleanor Oliver – Science
Lucy Pfeil – Science
Lillyana Rennick – Robotics
Campbell Schukei – Robotics
Shayli Shoemaker – Robotics
Elie Tako – Robotics
Miranda Vizoso – Science
Kenesaw
Emily Loetterle – Science
Lincoln
Ian Schlegel – Science
Isabelle Aguilar – History
Kayleigh Bennett – Science
Charlotte Boedeker – Science
Korabeth Carter – Science
David Crist – Robotics
Derek Curry – History
Samuel Davenport – Robotics
Joshua Dozler – History
Grant Gardner – Robotics
Adalyssa Gotschall – Robotics
Indigo Hansen – Science
Keilani Helton – Science
Zaden Holte – Robotics
Lars Kessler – Robotics
Piotr Korlacki – Robotics
Joseph Osinga Liebgott – History
Trista May – Science
Cooper Morgan – Science
Jackson Murman-Wilson – Robotics
DaVaya Notaro – Robotics
Maurice Prater – Science
Nolan Rhea – Robotics
Jay Schneider – Robotics
Annabeth Schubert – Science
Joshua Shaner – Robotics
Jenna Smith – Science
Julia Steffensmeier – Science
Gabe Strong – Robotics
Joey Walter – History
Anthony Williams – Robotics
Danielle Woods – Science
Norfolk
Layla Hernandez – Science
Noah Janke – Robotics
Omaha
Elizabeth Albers – Science
Kaden Elsasser – History
Andrea Forman – Science
Jonathan Friesen – Science
Zoe Gage – History
Elizabeth Kenny – Science
Dexter Krier – Robotics
Ella Laddusaw – Science
Chloe Ott – Science
Nayan Vel – Robotics
Papillion
Kaitlyn Parker  – History
Noah Parker – Robotics
York
Elizabeth Beauchamp – History
Ashleigh Hills – Science
Hastings College is a private, four-year institution located in Hastings, Nebraska, that focuses on student academic and extracurricular achievement. With more than 60 majors and 15 pre-professional programs, Hastings College has been named among "Great Schools, Great Prices" by U.S. News & World Report and a "Best in the Midwest" by The Princeton Review. For more, go to hastings.edu.