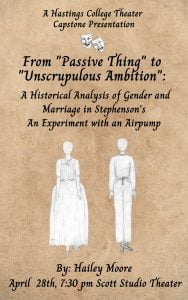 Hastings College theatre has announced an upcoming senior capstone presentation. Hailey Moore of Juniata, Nebraska, will present, "From 'Passive Thing' to 'Unscrupulous Ambition': A Historical Analysis of Gender and Marriage in Stephenson's 'An Experiment with an Airpump'," on Friday, April 28 at 7:30 p.m. at Scott Studio Theater (806 N. Turner Avenue).
The event is free and open to the public.
Moore will examine the themes of Stephenson's play, which takes place in one house on the dawn of two new centuries.
In 1799, Joseph Fenwick, a scientist, hosts two of his younger colleagues at his home, while trouble is brewing within his family. His daughters are constantly bickering and his wife Susannah is feeling neglected. In 1999, Ellen, a geneticist at the forefront of her field, considers accepting a new job offer while attempting to sway her currently unemployed husband Tom over to the idea. At the core of both of these storylines are the relationships between two women and their husbands.
Moore said the relationships in this play serve as an example of how despite how drastically women's role in society has changed over the course of 200 years, the conflicts at the core of theses two marriages remain the same.