The Hastings College Model United Nations team recently competed at its annual conference, the National Model UN Conference (NMUN), where it was recognized as one of the conference's Distinguished Delegations. This award is presented to the top 10% of all teams that participate.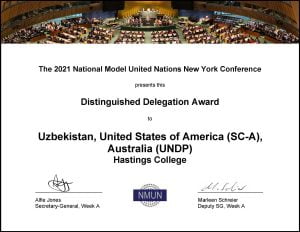 NMUN is usually held in New York City, but due to COVID-19 restrictions, the conference was held virtually. This did not stop teams from participating, as Hastings College students competed among thousands of other students from across the globe.
At the conference, the team was asked to represent three countries, including the United States on the Security Council, Australia on the United Nations Development Programme and Uzbekistan on six committees, including the UN General Assembly.
The Model UN team, which is coached by Dr. Sabina Hilaiel, negotiates with other delegations on each committee to compose resolutions so as to attract as many signatories as possible, all while trying to reflect the real-world policy preferences of the country they are representing.
Team members come from multiple academic disciplines across campus, including students majoring in history, political science, international relations, communications, business administration, English, education, criminology and others.
Team members this academic year include:
Head Delegates: 
Jaydn Smith of Grand Island, Nebraska
Emma Redinger of Hastings, Nebraska
Team Members:
Allison Banks of Shawnee, Kansas
Aidan Buryska of Owatonna, Minnesota
Victoria Caplinger of Effingham, Kansas
Allison Knowles of Papillion, Nebraska
Taylor Lipinski of Grayslake, Illinois
Courtney Manahan of Strasburg, Colorado
Lindsey Pratt of Denver, Colorado
Maggie Price of Bellevue, Nebraska
Blake Tyrell of Parker, Colorado
Natalie Watson of Franklin, Tennessee
Cody Wilson of Strasburg, Colorado
Hastings College is a four-year residential college that focuses on student academic and extracurricular achievement. Hastings' student-centered initiatives include providing books, an iPad and a two-week study away experience at no additional cost. A block-style semester schedule allows professors and students to focus on fewer classes at a time and promotes hands-on experiences. Discover more at hastings.edu.