Hastings College physical education instructor Casey Molifua '15/MAT '17 and assistant professor of art Dr. Brian Corr '99 are on embarking their next challenge, running 1.1 miles every hour on the hour April 21-22, 2023 to raise funds for the Mikaelah Molifua Memorial Scholarship.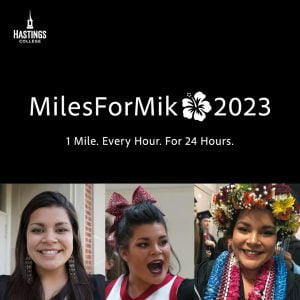 This is the second year the duo has undertaken the grueling run to grow the endowment of the scholarship named after Casey Molifua's sister. Most one-mile runs will happen around Heartwell Park, although they will run to Steeple Brewing and back to their home base — the Jackson Dinsdale Art Center — for an event there (see below).
Those who knew Mikaelah "Mik" Molifua, in life or in spirit, are able to participate by making a gift to grow the scholarship and/or running a mile or two in her memory. Details and a link to a giving form can be found at hastings.edu/mik.
Mik's scholarship benefits Hastings College student-athletes with financial need and an exceptional spirit and enthusiasm for the Broncos. Special consideration is given to students facing health challenges.
"This is one way to keep the spirit of Mikaelah Molifua alive and well," said Casey Molifua. "She loved Hastings College and this scholarship is one way to keep the love alive."
The goal for Miles for Mik this year is to grow the scholarship's endowment by $10,000. Those who make a gift of $25 or more can receive a commemorative Miles for Mik t-shirt.
Additional activities on Friday, April 21 include:
8:00 to 11:00 am — Howdy Mae's Coffee in front of the Gray Center
11:00 am to 1:00 pm — Dre's Food Truck in front of the Gray Center
5:00 to 8:00 pm — A gathering at Steeple Brewing (717 W 1st St., Hastings)
About Mikaelah Molifua
Few have worn Hastings College Crimson with as much energy, enthusiasm and positivity as Mikaelah Molifua.
When the Lincoln North Star graduate arrived on campus as a first-year student, she'd already defeated Stage IV cancer and was ready to channel her electric spirit into all things Bronco-related. As she earned her undergraduate degree in English education, she competed for the Bronco cheer and softball teams, served as a resident assistant in Babcock Hall, and led Alpha Delta Alpha sorority. In 2014, she even earned the title Ms. Bronco in the annual campus talent competition.
After graduating in 2017, Mikaelah remained on campus to earn a Master of Arts in Teaching degree with a physical education endorsement. She also became head coach for the Bronco Cheer and Crimson Spirit Dance teams.
That's when cancer returned. Always positive, Mikaelah taught the Hastings College family to be courageous and Molifua Strong in the face of adversity. She died on June 26, 2020.