The 2021 City High Schools Art Show opens June 1 at the Hastings College Jackson Dinsdale Art Center. The juried exhibition features creative works by high school students from three city high schools: Adams Central, St. Cecilia and Hastings Senior High, and is open through June 30.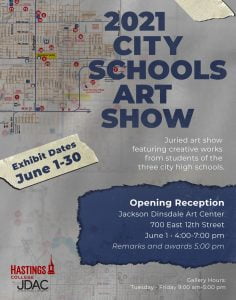 Featured works in this competitive exhibition were selected by Teliza Rodriquez, former chief curator at the Museum of Nebraska Art. An opening reception for the exhibit, which features 19 pieces, will be held June 1 from 4:00 to 7:00 p.m. The exhibition and reception are free and open to the public.
The JDAC Gallery, at 700 E. 12th Street, is open during the summer from 9:00 a.m. to 5:00 p.m. Tuesday through Friday.
For this show, several prizes will be awarded and announced during the opening reception. Prizes include:
Most promising sophomore, who will receive a $250 Open Space scholarship
Best in Show and a $200 prize
2nd Place and a $150 prize
3rd Place and a $100 prize
Two Honorable Mentions with a $50 prize each
This exhibition is supported by a grant from the Hastings Community Arts Council.
The Open Space scholarship will cover the cost to attend the premier visual arts immersion experience at Hastings College during the summer of 2022.
Hastings College is a four-year residential college that focuses on student academic and extracurricular achievement. Hastings' student-centered initiatives include providing books, an iPad and a two-week study away experience at no additional cost. A block-style semester schedule allows professors and students to focus on fewer classes at a time and promotes hands-on experiences. Discover more at hastings.edu.