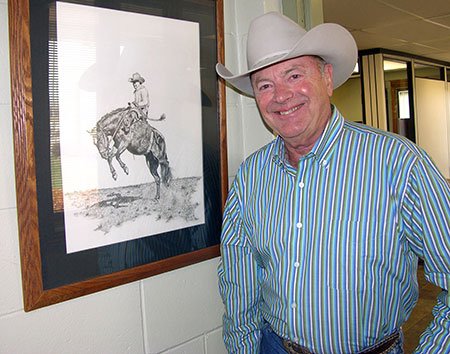 The Hastings College community lost an influential leader and member of a legacy family on Sunday, October 28, when Hastings native John C. "Jack" Osborne, died.
Osborne, a 1963 Hastings College graduate and CEO of Industrial Irrigation, was a member of the Hastings College Board of Trustees from 1992 to 2004, and was currently an Honorary Trustee. In 1990, Osborne was inducted into the Hastings College Athletic Hall of Fame. He was inducted into the Pro Rege Society, the the highest non-academic recognition that Hastings College bestows, in 2007.
"There have been four generations of Osbornes on our Board of Trustees, and the values Jack and the entire Osborne family stand for are etched into our mission as a College. It's who we are and what we do at Hastings College," said Gary Freeman, Executive Director of the Hastings College Foundation. "We will always remember Jack's contribution, support and encouragement over the years. He will be deeply missed around campus and the community."
When Osborne joined the Board of Trustees in 1992, he continued a family tradition that included his father, Charles Osborne, a 1930 graduate, who served on the Board from 1955 to 1982, and his grandfather, Thomas Osborn, a 1901 graduate and a Trustee from 1910 to 1946. Jack's son, Justin C. Osborne, is currently a member of the Board and the fourth generation to serve the College. Jack's brother, Tom W. Osborne, a 1959 graduate, was a Trustee from 2007 to 2010, and is currently an Honorary Trustee.
The College recognized the entire Osborne family for its century-long commitment by naming the Osborne Family Sports Complex, which opened in 2000, in their honor.
While on the Board, Osborne served on the the Budget and Finance Committee and the Building and Grounds Committee. Osborne, a Hastings native, lettered in football, but his specialty was on the oval around the football field, as he was a record-setting track performer for the Broncos.
Hastings College is a private, four-year institution located in Hastings, Nebraska, that focuses on student academic and extracurricular achievement. Hastings College has been named among "Great Schools, Great Prices" by U.S. News & World Report and a "Best in the Midwest" by The Princeton Review. For more, go to hastings.edu.