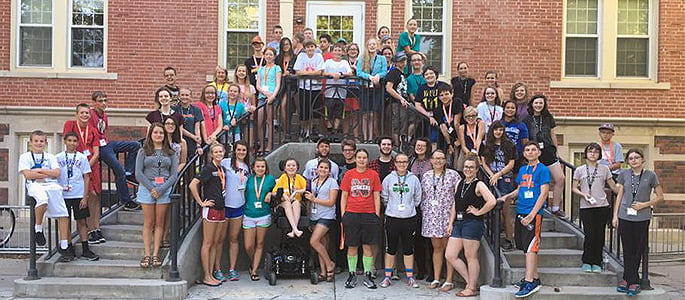 More than 50 gifted and talented students entering 8th and 9th grades challenged their minds over summer vacation at the 30th annual Hastings College Scholars Academy (HCSA).
From June 26 to July 1, these young scholars lived on campus and experienced hands-on learning in one of four areas—mathematics, communications, robotics or science—taught by highly-regarded teachers from across Nebraska and Hastings College professors.
During the week long program, students enrolled in the mathematics section integrated math and creativity to create geometric works of art in multiple mediums such as tessellations, perspective drawings and origami. The class was also introduced to the basics of computer programming, with each scholar building a web page.
Students in the speech section honed their communication and acting skills while learning how to use their voices and unique talents to enrich their communities. They practiced the process of building an oral performance from script to delivery.
The robotics class spent the week constructing varieties of remote-controlled robots, combining elements of science, technology, engineering and mathematics. In addition, each student personalized a wind-up scribble robot with a plastic cup, googly eyes and markers released onto paper to create an abstract work of art.
Science students went on-location to explore a local farm and a U.S. Department of Agriculture research center to learn the importance of nutrition and where food comes from, as well as studying genetics, using polymerase chain reaction machine and isolating their own DNA.
Aside from their classes, students had opportunities to make new friends with fun social and cultural activities. Students got a preview of college life by staying in a campus residence hall, eating in the cafeteria and interacting with college students who served as their resident advisors and social group leaders.
For more information on the Hastings College Scholars Academy, go to hastings.edu/HCSA or find them on Facebook.
The 2016 scholars are listed below, by state then city.
NEBRASKA
Bee
Sydney Christensen – Speech
Bellevue
Allison Loftus – Speech
Chappell
Mariah Koenen – Robotics
Grand Island
Maria Albers – Science
Allee Galusha – Science
Samantha Hansen – Math
Grant Kohles – Robotics
Wyatt Kohles – Robotics
Jacob Mankin – Math
Hastings
Ben Anderson – Speech
Courtney Beave – Science
Lily Black – Speech
Andrew Brandt – Robotics
Meredith Brandt – Speech
Natalie Brandt – Science
Alice Franssen – Speech
Xavier Herman – Robotics
Linnea Howie – Science
Tyson Kerr – Robotics
Nina Meyer – Robotics
Tag Pershing – Speech
Grace Redinger – Speech
Sarah Spilinek – Speech
Hannah Tunks – Speech
Keaton Verhage – Robotics
Carter Wenburg – Robotics
Tristan Weston – Robotics
Kearney
Logan Fangmeyer – Speech
Lincoln
Aidan Badousek – Science
Meg Boedeker – Robotics
Bree Brunsman – Math
Jack Christenson – Robotics
Ella Hansen – Robotics
Janna Marley – Science
Kendal McClure – Math
Max Moore – Robotics
Kataryna Morton – Science
Kyleigh Murray – Science
Taylor Rinne – Science
Alora Schneider – Math
Madeline Walker – Robotics
Elijah Whitaker- Math
Norfolk
Logan Brtek – Speech
Papillion
Evangeline Mason – Math
Scottsbluff
Kamden McGrew – Science
Seward
Ashton Conner – Math
Jarod Harris – Robotics
Alexis Hiser – Science
Camryn Jensen – Speech
Valley
Paul Stenka – Math
Wayne
Treyton Blecke – Math
MISSOURI
Warrensburg
Genieve Miller – Robotics
Hastings College is a private, four-year institution located in Hastings, Nebraska, that focuses on student academic and extracurricular achievement. With 64 majors and 15 pre-professional programs, Hastings College has been named among "Great Schools, Great Prices" by U.S. News & World Report, a "Best in the Midwest" by The Princeton Review and a "Best Bang for the Buck" school by Washington Monthly. For more, go to hastings.edu.