Research shows virtual reality can help people overcome a fear of speaking.
Students who have a fear of public speaking can now look to virtual reality technology as a way to resolve their anxieties. A study by Dr. John Perlich, professor of communication studies at Hastings College, revealed how practicing a speech in virtual reality makes public speaking less intimidating for students.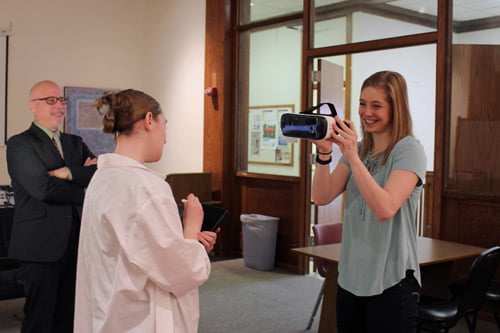 "This is the first study that shows we can use a virtual reality environment (VRE) to help speakers gain confidence and lower their fear," Perlich said. "The applications of this research are widespread, as skill in communicating is one of the most desirable qualities employers seek, and tools that might reduce communication apprehension can help build these skills in our students."
In a study conducted earlier this year, Perlich and his student research team found that Hastings College students who practiced in front of a virtual audience experienced less communication apprehension than students who practiced in their real classroom environment. The study used a 360-degree camera to record a classroom of real audience members. The video and a virtual reality headset was given to a small group of students, who then practiced their speeches in the VRE.
The study built of previous research that suggested the anxiety of public speaking is equally prevalent in both real and virtual settings. Perlich's intention was to explore the similarities between real environments and VRE to uncover potential advantages.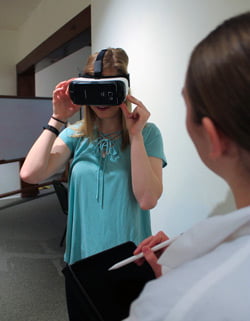 "I believed the fact the VRE and real environments produce equal amounts of apprehension could be beneficial, especially for students practicing speeches to reduce their fear," Perlich said.  
Perlich published his findings in "The Forensic," a journal from the Pi Kappa Delta national collegiate forensic organization. The article, titled "Even the Playing Field: Virtual Reality Environment (VRE) as a Preparatory Tool for Speakers," illustrates how VRE reduces apprehension more than real-world practice.  
This is the second study exploring techniques to reduce communication apprehension in student speakers to be published this year by Perlich and his student research team.
"Our goal is to capitalize on our momentum in this area and open a Center for Communication Research at Hastings College. I want individuals in our community to know that our resources are available to them," Perlich said. "If we can help a person overcome their fear of speaking, we've done something very special."  
For more information about this research, Perlich can be reached at jperlich@hastings.edu.   
Hastings College is a private, four-year institution located in Hastings, Nebraska, that focuses on student academic and extracurricular achievement. With 64 majors and 15 pre-professional programs, Hastings College has been named among "Great Schools, Great Prices" by U.S. News & World Report and a "Best in the Midwest" by The Princeton Review. For more, go to hastings.edu.