The Hastings Symphony Orchestra's Young Artist & Youth Concert on Sunday, February 27, features Hastings College student Maria Pytlik, who was selected as the winner of the Young Artist Competition held earlier this year, and the symphony will play a piece composed by student Benjamin Howie.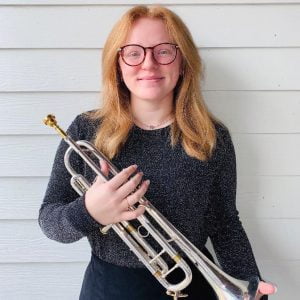 The concert begins at 3:00 p.m. at the Masonic Center Auditorium (411 N Hastings Ave.). Tickets are $18-20 for adults, and all students are admitted free.
HSO's biennial Young Artist Competition held for Hastings College students saw four music majors compete — Kendall Greene (alto saxophone) from Colorado Springs, Colorado; Benjamin Howie (piano) from Hastings, Nebraska; Karl Ludwig (tenor saxophone) from La Junta, Colorado; and Maria Pytlik (trumpet) from Brainard, Nebraska. Judges for the competition were Dr. Timothy Farrell and Dr. Mirim Kim of the University of Nebraska–Kearney.
"All four had wonderful performances, and the judges said they were impressed with the talent displayed," said Dr. Byron Jensen, a music professor at Hastings College and director of HSO. "Maria was selected as winner, and the piece she will play with the symphony is an energetic and popular piece."
Pytlik, a sophomore double majoring in music education and trumpet performance, will perform the Trumpet Concerto by Alexander Arutunian with the HSO. This concerto is famous for its bravado and intensity, Jensen said.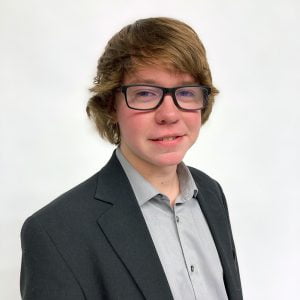 Pytlik began playing the trumpet when she was five years old and began taking lessons with Brad Obbink in Lincoln, Nebraska, a couple years later. During the decade of working with Obbink, Pytlik said she pushed herself to become a better musician, and  performed solos at the Catholic Social Services Trumpet Fest and volunteered as the designated bugler for the Brainard American Legion. She received the Nebraska Young Artist Award and was consecutively third, second and first chair trumpet in the Nebraska All State Band. She was also runner up in the 2020 Lincoln Municipal Band John Shildneck Young Artist Competition. At Hastings College, she takes lessons from Dr. Louie Eckhardt, assistant professor of music and director of bands, and is first chair in the Hastings College Band, and assistant first and fourth chair in the HSO.
HSO will also perform a world premiere composed by Howie titled "Dark Intentions." Howie, a senior music major, appends a Mark Twain quote: "Everyone has a moon, and has a dark side which he never shows to anybody." The piece blends ideas extracted from works by other composers (all in the public domain), including the famous "Dies irae" heard in requiem masses. It concludes with an uplifting hymn.
Jensen said the HSO program for this concert also features Antonin Dvoark's Symphony No. 9 in E Minor, popularly referred to as "From the New World."
More information on the HSO can be found at hastingssymphony.com.
Hastings College is a four-year residential college that focuses on student academic and extracurricular achievement. Hastings' student-centered initiatives include providing books, an iPad and a two-week study away experience at no additional cost. A block-style semester schedule allows professors and students to focus on fewer classes at a time and promotes hands-on experiences. Discover more at hastings.edu.