The Hastings Oral History Initiative (HOHI) and Humanities Nebraska are co-sponsoring two community workshops that are free and open to the public. Each workshop covers the practice of oral history, as well as features keynote speakers and an oral history practice session.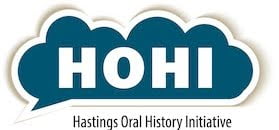 The first workshop takes place September 17 from 3:00 to 5:00 p.m. at The Lark in downtown Hastings (809 W 2nd Street). Following the theme "Oral History and Local History," the workshop focuses on the importance of oral history in creating a more robust and inclusive local history. Attendees will learn how to contribute to the history-making process by conducting their own oral histories.
The workshop includes two short lectures by Elizabeth Spilinek and Amy Peirce. Spilinek, executive director for the Adams County Historical Society, explores local history through a case study of the Kipp Cigar Company in her lecture entitled "Local Voices from the Past." Peirce, founder and owner of Stories in Time, covers the importance of personal and family history in her speech "Saving Lives, One Story at at Time."  
The second workshop, scheduled for October 8 from 2:00 to 4:00 p.m. at Prairie Loft (4705 Dld Road), addresses the theme "The LGBTQIA Community and Oral History." The workshop welcomes speaker JJ Kahle, a Spanish teacher at the Blake School in Minneapolis, and faculty advisor of the institution's Gender and Sexuality Alliance and Social Justice League. Kahle's lecture "Out on the Plains: The Importance of Telling Our Stories," connects with the workshop's theme by detailing oral history's value on marginalized communities, whose narratives are often left out of traditional histories. As in the first workshop, attendees will participate in breakout sessions to practice their oral history skills.
"These workshops are a great way to make history public. Everyone has a history, and every history is important," said HOHI founder and Hastings College history professor Dr. Michella Marino. "We hope the workshop attendees will realize that their stories are valuable and add depth to our local, regional and even national history. By sharing their stories, we can begin to get a better sense of the communities in which we live."
HOHI is an on-going project aimed at providing an easily accessible space for all oral history practitioners to collect and preserve oral history interviews. The initiative is led by Dr. Michella Marino and her students at Hastings College. More information about HOHI is available online or by emailing hohi@hastings.edu.