Performance poets Manuel Gonzalez and his 13-year-old daughter Sarito Sol Gonzalez will read from their work on Friday, January 11 at 7:00 p.m. in the Scott Studio Theatre (806 N. Turner Ave.) on campus. The event is free and open to the public.
Manuel Gonzalez and Sarito Sol Gonzalez are from Albuquerque, New Mexico. The poets are on tour through Nebraska as part of the Nebraska Writers Collective touring artist series.
The event is sponsored by the Nebraska Writers Collective and the Hastings College Fine Arts & Humanities Division.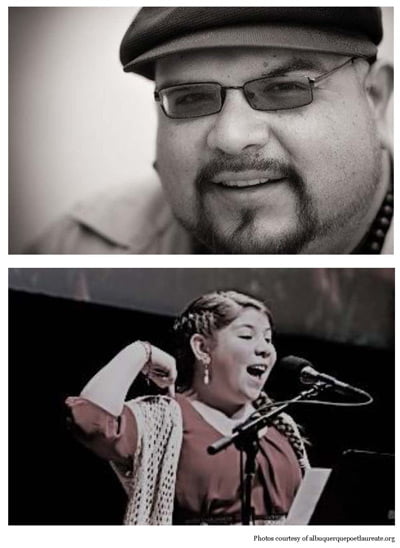 Manuel Gonzalez is performance poet who began his career in the poetry slam and was the Poet Laureate of Albuquerque from 2016 to 2018. He has represented Albuquerque four times as a member of the ABQ Slam Team at the National Poetry Slam.
Manuel has appeared on the PBS show, "¡Colores!: My Word is My Power," and is one of the founding members of the poetry troupe The Angry Brown Poets and People of the Sun-Performance Art Collective. For 15 years, he has taught workshops on self-expression through poetry in high schools and youth detention. He has also worked with art therapists to help incarcerated young men find an outlet to express themselves. Manuel has also coached and mentored multiple youth slam teams throughout northern and central New Mexico.
Sarita Sol Gonzalez​ is a performance poet who wrote her first poem in the second grade. She's is one of the youngest writers in the Albuquerque poetry community, and her poetry reflects her love of her community and passion for her culture. She has been published in various anthologies from Swimming With Elephants Publications, and has self-published a chapbook titled "Solita: Ancestors, Familia, y Mi Corazon" and in 2016 published "Burquenita."
Sarita was a featured speaker at Albuquerque TEDxYouth 2015. In 2016, she was asked by the U.S. Poet Laureate, Juan Felipe Herrera, to perform with him at the ceremony for the ending/reinstating of his Laureateship at the Library of Congress in Washington, D.C. Sarita was awarded the 2016 President's Award for her accomplishments in poetry locally and nationally by the president of The Albuquerque Hispano Chamber of Commerce. Sarita is also a youth activist that has been invited to recite her poetry at the 2017 Santa Fe Women's March and at the 2018 Albuquerque March or Our Lives.
Hastings College is a private, four-year institution located in Hastings, Nebraska, that focuses on student academic and extracurricular achievement. Hastings College has been named among "Great Schools, Great Prices" by U.S. News & World Report and a "Best in the Midwest" by The Princeton Review. For more, go to hastings.edu.