Hastings College will hold its 58th Annual Honor Band, 50th Annual Honor Choir and 41st Annual Honor Orchestra concert on February 8, at 3:00 p.m. in the Kiewit Building (715 E. 7th Street). Tickets for the concert will be available at the door at a cost of $8.00 for adults and $5.00 for students.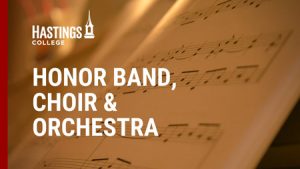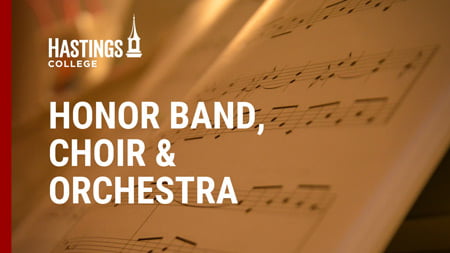 The Hastings College Honor Band, Orchestra and Choir (HBOC) festival is the longest-running high school music honor ensembles sponsored by a college in Nebraska and feature some of the best high school musical talent throughout the region. This year, students selected come from 39 high schools in Nebraska and one in Georgia.
The honor band is directed by Dennis Glocke, director of bands at Penn State University; the orchestra is directed by Dr. Byron Jensen, director of Hastings Symphony Orchestra; and the choir is directed by Dr. Bret Amundson, director of choral activities at the College of St. Scholastica.
Students selected for this year's Hastings College Honor Band, Orchestra and Choir are listed below, by high school.
Georgia
Academy for Classical Education
Choir
Nebraska
Adams Central High School
Band
Jaden Niehauser
Tristan Weston
Choir
Jordyn Barbee
Kieren Feeney
Merci Hood
Makena Lindblad
Olivia Mancinas
Gabe Reiman
Grace Reiman
Alliance High School
Choir
Mareesa Buskirk
Aubrey Garrett
Aurora High School
Band
Makayla Eberly
Gregory Evans
Camden Williams
Bellevue East High School
Choir
Breanna Vasquez Glover
Sebastiano Jennings
Jack Wegner
Chase County High School
Band
Homeschool, Clearwater, Nebraska
Band
Matthew Feusse
Nathan Feusse
Conestoga High School
Band
Levi Bell
Daniel Cutler
Jessica Poirier
Jasmine Rainey
Halley Shade
Choir
Lorna Moynihan
Rebecca Poirier
Crete High School
Choir
Cross County High School
Choir
Fairbury High School
Band
Falls City High School
Choir
Fillmore Central High School
Choir
Fort Calhoun High School
Band
Nate Bonacci
John McKennan
Ryan Swierczek
Choir
Kyla DeLuca
Davan Goos
Sophia Irvine
Malachi King
Franklin Public School
Choir
Elizabeth Bower
Jasmin Wengler
Gibbon High School
Choir
Grand Island Senior High School
Band
Dora Bermudez
Sofia Dominguez
Noah Foley
Samantha Gapp
Julia Myers
Hastings Senior High School
Band
Courtney Beave
Emma Fincher
Hailey Haase
AJ Marousek
Alice Vu
Choir
Brandon Bruns
Ella Collins
Hannah Gammill
Erika Nielsen
Hannah Reynolds
Jonah Smith
Sarah Spilinek
Orchestra
Christine Jonglertham
Grace Michalek
Gretchen Muth
Caiden Henry-Perlich
Hitchcock County High School
Choir
Tatjana Dragoner
Faith Wagner
Holdrege High School
Band
Maggie deFreese
Ella Roach
Kearney Catholic High School
Band
Kearney High School
Band
Dylan Johnson
Dylan Kramer
Isabella Nachtigal
Benjamin Rothermich
Jacob Soloman
Orchestra
Matthew Dahlke
Madison Getz
Francesca Padgett
Lamb Of God Lutheran Academy
Orchestra
Lincoln Northeast High School
Band
Lincoln North Star High School
Orchestra
Lincoln Southeast High School
Band
Cameron Grabenstein
Colton Harris
Matea Jerkovic
Taylor Velgersdyk
Millard South High School
Band
Taylon Amick
Elizabeth Chinowth
Jayden Smith
Mitchell High School
Choir
Norfolk Senior High School
Band
Grace Day
Mason Dover
Janea Hirschman
Kenny Mitchell
Allison Wisnieski
Tyler Wisnieski
Choir
Daphne Buss
Anna Escoto
Giorgia Korth
Ethan Lee
Maya Marfileno
Jacob Rusk
Ryan Schroeder
Sierra Schroeder
Kailee Weaver
Ben Wicker
Orchestra
Erin Barnhill
Paloma Castillo
Brayden Rittscher
Grace Schavee
Jeffrey Sours
Aimee Wiebelhaus
Melanie Yover
Osmond High School
Band
Pawnee City High School
Choir
Shawna Boverhuis
Jade Thayer
Homeschool, Pierce, Nebraska
Band
Platteview High School
Orchestra
Sandy Creek High School
Band
Southern Valley High School
Band
Ashlyn Brown
Brooke Jorgenson
Shelby Rickert
Choir
Sumner-Eddyville-Miller High School
Choir
Madison Bosak
Reagan Govier
Thayer Central High School
Choir
Addison LaFrance
Andrew Landsmann
Tri County High School
Choir
Weeping Water High School
Band
Wilber-Clatonia High School
Choir
Nebraska's premier private college, Hastings College is a four-year institution located in Hastings, Nebraska, that focuses on student academic and extracurricular achievement. Hastings College has been named among "Great Schools, Great Prices" by U.S. News & World Report and a "Best in the Midwest" by The Princeton Review. For more, go to hastings.edu.