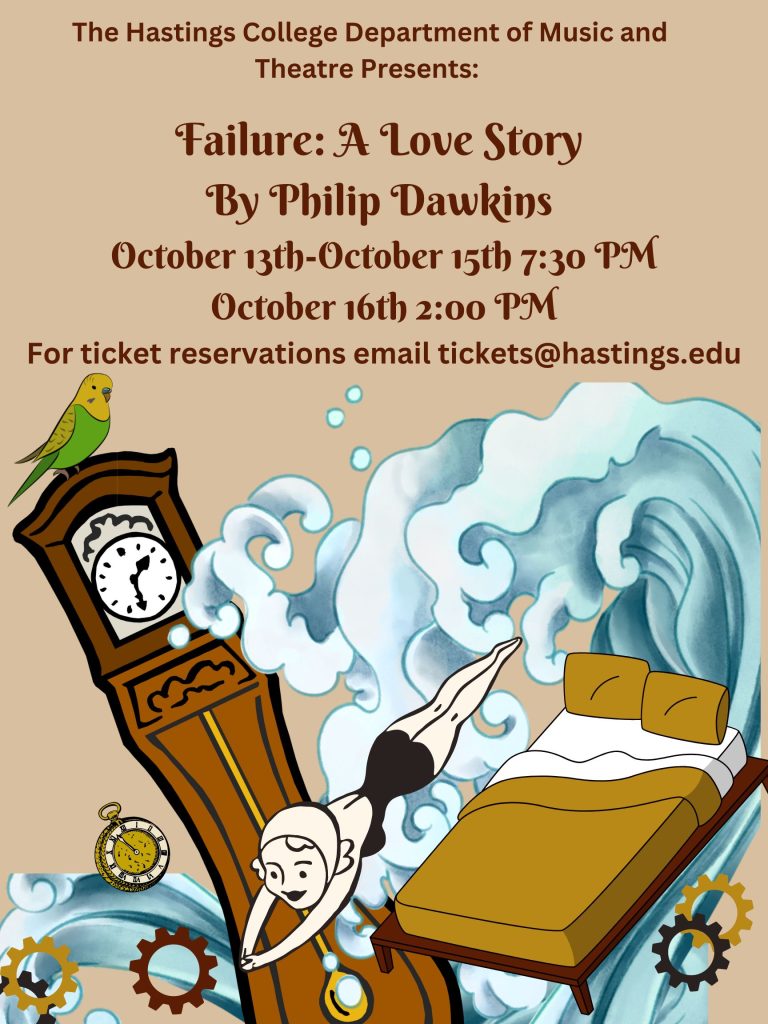 By the end of 1928, all three Fail sisters will be dead — expiring in reverse order, youngest to oldest, from blunt object to the head, disappearance and, finally, consumption. This whimsical tale follows the story of Nelly, Jenny June and Gerty as they live out their lives above the family clock repair shop near the Chicago River, before their time unexpectedly runs out. "Failure: A Love Story," presented by Hastings College Theatre, is a magical fable where, in the end, the power of love is far greater than any individual's successes or failures.
"Failure: A Love Story," by Phillip Dawkins, will be presented at Scott Studio Theater October 14 and 15 at 7:30 p.m., and October 16 at 2:00 p.m.
NOTE: The release noted opening night was Thursday, October 13, but that performance has been dropped from the schedule. Opening night is Friday, October 14.
Tickets are $8:00 for adults and $5.00 for seniors and non-Hastings College students, and can be reserved by emailing tickets@hastings.edu. Performances are free to Hastings College students, employees, Crimson Connection members and Bronco Stampede pass holders.
Performances of this show are dedicated to Brady Buechter, who passed away in September. Buechter, of Belgrade, Nebraska, was a first year student and cast member of this show.
The production team, cast and crew are listed below.
Cast List
Nelly Fail: Morgan O'Neill of Cheyenne, Wyoming
Jenny June Fail: Brooke Jorgenson of Orleans, Nebraska
Gertrude Fail: Lindsey Pratt of Denver, Colorado
John N. Fail: Aniya Kreifels of Omaha, Nebraska
Mortimer Mortimer: Turner Griffin of Grand Island, Nebraska
Chorus
Keeley Garland of Superior, Colorado
Ivey Zimmerman of Overton, Nebraska
Aynsley Brink of Omaha, Nebraska
Fayth Brudvig of Nelson, Nebraska
Moses: Jordan Parker of Omaha, Nebraska
Mae: Max Blankenship of Queen Creek, Arizona
December: Brandon Bruns of Hastings, Nebraska
Dog: Casper Campbell of Columbus, Nebraska
Crew
Stage Manager: Niko Reece of Broomfield, Nebraska
Costume Lead: Audrey Weeks of Hastings, Nebraska
Costume Crew: Laynee Ferguson of Minden, Nebraska; Lakyn Kimmer-Steffen of Hastings, Nebraska; AJ Sanchez of Elkhorn, Nebraska
Scenic/Props/Lighting Lead: Christian Kehn of Boulder, Colorado
Scenic/Props/Lighting Crew: Mars Deal of Littleton, Colorado; Jermaine Francis of Nassau, Bahamas; Maddie Kamler of Shickley, Nebraska; Ayla Kephart of Chadron, Nebraska; Emily Pikop of Grand Island, Nebraska; Venn Wood of Lincoln, Nebraska
Sound Crew: Charly Lufkin of Fairbury, Nebraska; Janison Majors of Superior, Nebraska
Box Office
Lead: Noah Sullivan of Centennial, Colorado
Lakyn Kimmer-Steffen of Hastings, Nebraska
Hastings College is a four-year residential college that focuses on student academic and extracurricular achievement. Hastings' student-centered initiatives include providing books, an iPad and a two-week study away experience at no additional cost. A block-style semester schedule allows professors and students to focus on fewer classes at a time and promotes hands-on experiences. Discover more at hastings.edu.