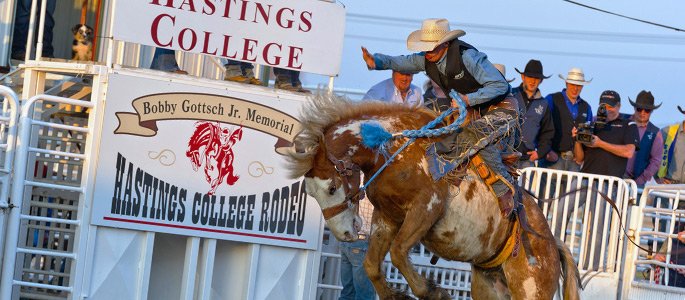 Hastings College is set to host the Bobby Gottsch Jr. Memorial Hastings College Rodeo at the Adams County Fairgrounds on May 2-3. The inaugural rodeo was named the 2013 Rodeo of the Year by members the Great Plains Region of the National Intercollegiate Rodeo Association, and the 2014 rodeo is shaping up to be an exciting event with great entertainment for fans of all ages.
The rodeo opens at 7 p.m., on Friday, May 2 with the first performance. Slack is scheduled for 9 a.m., on Saturday, May 3, with finals set for 7 p.m., on Saturday. Gates open one hour before each event at the fairgrounds, located at 947 S Baltimore Ave. in Hastings, Neb.
Tickets are free for all students, while adult tickets are $10 per performance or $15 for a weekend pass. There is no charge to attend Saturday morning's slack. Hastings College students, faculty and staff who present a college ID will also be admitted free all weekend.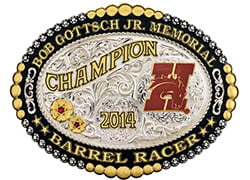 "We had thousands of fans come cheer on the Hastings College Bronco Rodeo team and the more than 200 competitors from across the region last year, and we've worked hard to make this year's rodeo as fun and entertaining," said Justen Nokes, Head Coach of the Hastings College Bronco Rodeo team. "Hastings is a great rodeo town, and we're thankful to our rodeo sponsors and fans."
The rodeo is named after the late Bobby Gottsch, Jr., who was instrumental in forming the Hastings College rodeo team along with Jack Osborne, CEO of Industrial Irrigation and Grand Marshal of the rodeo.
Nokes said more than 200 competitors are registered to come to Hastings and compete in the Bobby Gottsch Jr. Memorial Hastings College Rodeo. Events include barrel racing, bareback riding, bull riding, team roping, goat tying, tie-down roping, saddle bronc riding, break away roping and steer wrestling.
The National Intercollegiate Rodeo Association has sanctioned the rodeo, and those participating earn points that help them advance to the College National Finals Rodeo.
Founded in 1882, Hastings College is a private, four-year liberal arts institution located in Hastings, Nebraska, that focuses on student academic and extracurricular achievement. With 64 majors in 32 areas of study and 12 pre-professional programs, Hastings College has been named among "America's Best National Liberal Arts Colleges" by U.S. News & World Report, a "Best in the Midwest" by The Princeton Review and a "Best Buy in College Education" by Barron's. Visit Hastings.edu for more.