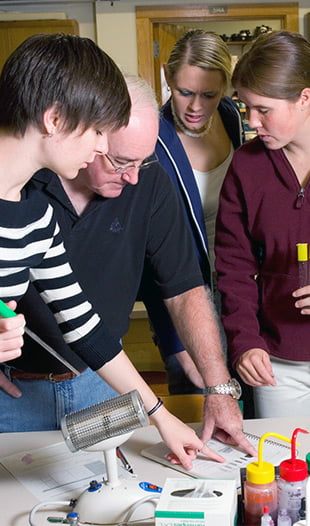 In its annual list of colleges with the best professors, the Center for College Affordability and Productivity again ranked Hastings College 23rd out of more than 600 colleges across the United States considered in the ranking, as noted in a report by CBS MoneyWatch.
As in past years, liberal arts institutions like Hastings College dominated the top 25 list. CBS MoneyWatch said that's because liberal arts colleges focus on undergraduate education and offer smaller classes that allow students to get to know their professors and find mentors. Hastings College, with a 12-to-1 student-to-faculty ratio, fits that description perfectly.
Small class sizes at Hastings College help facilitate a positive, mentoring relationship between students and faculty. Indeed, the focus of Hastings College's outstanding professors is student education, which in many cases is the opposite of larger universities where faculty are pushed instead to generate research dollars, leaving the teaching to graduate students.
By maintaining its students-first focus for more than 130 years, Hastings College has become a community where students thrive and become life-long learners. With many students also involved in extracurricular activities, from athletics to the arts, plus opportunities to participate in more than 100 student organizations, Hastings College students enjoy a rewarding four years of college life and graduate prepared for their next phase of life, whether that be a career or graduate school.
Founded in 1882, Hastings College is a private, four-year liberal arts institution that focuses on student academic and extracurricular achievement. With 60+ majors in 32 areas of study and 12 pre-professional programs, Hastings College has been named among "America's Best National Liberal Arts Colleges" by U.S. News & World Report, a "Best in the Midwest" by The Princeton Review and a "Best Buy in College Education" by Barron's. Visit Hastings.edu for more.