Through the fall semester, the Hastings College forensics team competed in 18 tournaments through both asynchronous and synchronous formats. During the semester, the team qualified 22 events to the American Forensics Association National Speech Tournament (AFA-NST), which will be held at the University of Nebraska–Lincoln in April 2022.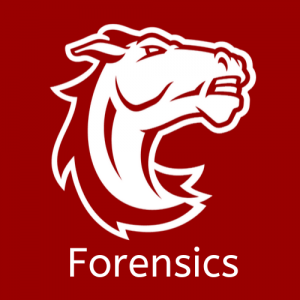 Highlights for the fall included competing in-person for the first time since March 2020 at South Dakota State University's Jackrabbit Joust in Brookings, South Dakota, and at Bradley University's L.E. Norton in Peoria, Illinois, and qualifying every team member to the AFA-NST.
"It was wonderful to see students compete in person again. The team was excited to reconnect with old friends and to make a statement by taking home 1st place," said Dr. Austin McDonald, interim director of forensics. "It is challenging for students to compete in both formats, as the preparation and competition are different between online and in-person, but we are proud of how our students have adjusted to the circumstances and have continued to qualify events for nationals."
The team is looking forward to several tournaments in the spring semester, including their home tournament the Bronco Bash, the Nebraska Intercollegiate Forensics Association State Tournament and others.
Below are all events that have qualified for the AFA-NST so far this year.
Ally Banks, a sophomore from Shawnee, Kansas, qualified After Dinner Speaking, Poetry Interpretation, and Prose Interpretation.
Betsy Miller, a first-year student from Arlington, Kansas, qualified Extemporaneous Speaking.
Brooklyn Elwood, a sophomore from Sutherland, Nebraska, qualified After Dinner Speaking, Dramatic Interpretation, and Program Oral Interpretation.
Mae Heater, a sophomore from Bennington, Nebraska, qualified Informative Speaking.
Jacob Stulken, a sophomore from Doniphan, Nebraska, qualified Communication Analysis.
Nikki deSeriere, a junior from Westminster, Colorado, qualified Duo Interpretation with senior Brendan Kachnowski, Impromptu Speaking, Program Oral Interpretation, and Prose Interpretation.
Chloe Carson, a senior from Eagan, Minnesota, qualified Dramatic Interpretation and Prose Interpretation.
Brendan Kachnowski, a senior from Rock Springs, Wyoming, qualified Dramatic Interpretation, Duo Interpretation with junior Nikki deSeriere, Poetry Interpretation, Program Oral Interpretation, and Prose Interpretation.
The Hastings College forensics team continues a long-running tradition of national competitive success, placing in the top 20 at the American Forensics Association National Speech Tournament (AFA-NST) for most of the past 20 years. Most recently, Hastings College placed 9th at AFA-NST 2021.
Hastings College is a four-year residential college that focuses on student academic and extracurricular achievement. Hastings' student-centered initiatives include providing books, an iPad and a two-week study away experience at no additional cost. A block-style semester schedule allows professors and students to focus on fewer classes at a time and promotes hands-on experiences. Discover more at hastings.edu.