The Hastings College Jackson Dinsdale Art Center (JDAC) opens its second summer exhibition with "Sign Posts: Searching for the Spirit," a joint show from Hastings College alumni and father and son Jeremy Daniels and Mark Daniels.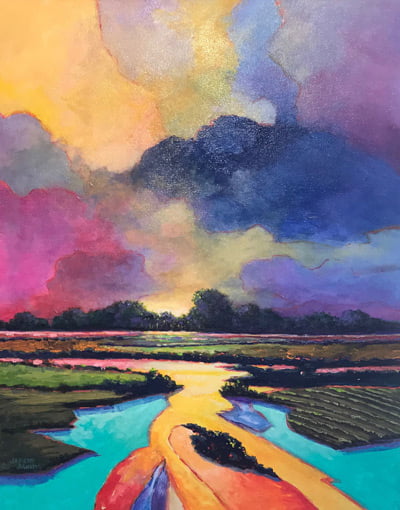 The show opens July 11, with a reception and talk set for Sunday, July 15 from 2:00 to 4:00 p.m. at the JDAC. Regular summer gallery hours are Monday to Thursday from 9:00 a.m. to 5:00 p.m., and Friday from 9:00 a.m. to 12:00 p.m.
Jeremy Daniels is a 1963 graduate of Hastings College. After a number of years in the military, he worked for Dutton-Lainson Company in Hastings, Nebraska, for more than 40 years, where most of his work involved the creative aspects of the business. His artwork involves a wide range of media, but he primarily paints with pastel, oil and acrylic, and creates sculpture in bronze, welded metal, wood, stone and terra cotta.
Mark Daniels graduated from Hastings College in 1993. His interest in art was fostered by his father, and over the past 13 years, Mark has been active in the art world, participating in shows across the Midwest.
Inspired by the work of Robert Henri, this joint show explores what the spirit of art is, and follows Jeremy through his own search for understanding.
"I think of my art as sign-posts that I create, as I search for the art spirit that Robert Henri wrote about," Jeremy said. "He believed that freedom of expression, seeing beyond the object, independent thinking and experimenting with a broad spectrum of techniques were all precepts that should help direct an artist in their search for creative expression."
The Daniels' show, along with "Translation" by Amy Sandeen and Jack Sandeen, will be on display through August 3.
Personal tours of the JDAC outside regular gallery hours can be scheduled by calling 402.461.7396 or emailing ckimberly@hastings.edu.
Hastings College is a private, four-year institution located in Hastings, Nebraska, that focuses on student academic and extracurricular achievement. With 64 majors and 15 pre-professional programs, Hastings College has been named among "Great Schools, Great Prices" by U.S. News & World Report and a "Best in the Midwest" by The Princeton Review. For more, go to hastings.edu.