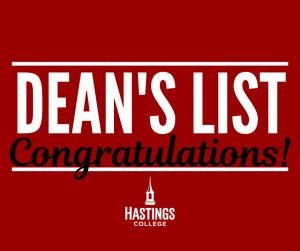 Hastings College has announced the Dean's List for its spring 2023 semester. For the semester, 361 students from 20 states and 11 countries were named to the Dean's List.
To be eligible for the Dean's List, students must achieve a grade point average of 3.7 to 4.0 scale and be registered for full-time coursework.
Students are listed alphabetically by state and hometown. International students are located at the end of the list.
Students with an asterisk by their name earned a 4.0 grade point average for the semester.
Arizona
Casa Grande
Cynthia Chaparro Belloc
Chino Valley
Carley Davis*
Cortaro
Duncan Fouts*
Douglas
Isabel Tanabe*
Glendale
Riley Lanning*
Queen Creek
Grace Blankenship*
Tucson
Jonathan O'Dell*
California
Castro Valley
Gabriella Vinciguerra*
Glendora
Jack Morton
Yorba Linda
Kavika Aholelei*
Colorado
Aurora
Jayna Franson*
Erica Inay
Brady Kaufmann
Paola Ramirez Castanon*
Berthoud
Jonah Doyle
Isabel Gittings*
Breckenridge
Jake Levinson
Broomfield
Kyla Humphreys*
Calhan
Zachary Peterson
Castle Rock
Lauren Schneider*
Dekota Schubert
Centennial
Edward Pallotto*
Noah Sullivan*
Colorado Springs
Cheyenne Clements
Emma Downing*
Dylan Shaw*
Commerce City
Angel-Marie Lizarraga
Samantha Skinner
Mareena Womack*
Delta
KC Carlson*
Denver
Lindsey Pratt*
Mireya Rivas*
Bemnet Tesfa*
Elbert
Jordyn Duffy*
Elizabeth
Jayden Lawrence*
Erie
Liam Sites*
Fort Collins
Kaelyn Pontes*
Christopher Sedmak*
Fort Morgan
Citlaly Quiroz*
Gill
Rhys Maxey*
Golden
Matheson Baird*
Maximilian Crosbie
Greeley
Claire Fahsholtz*
Caitlin Harr
Hattie Sheets*
Haxtun
Dawson Knode*
Highlands Ranch
Elizabeth Baade*
Paul Baker Rodriguez
Vincent Byrne*
Kenedie Dailey*
Claire Hubbard*
La Junta
Karl Ludwig
Lakewood
Matthew Lucero
Jessica Strock
Limon
Savannah Frasier*
Littleton
Jackson Hobbs
Keatyn Maes*
Lauryn Metz*
Emily Nevins*
Kaley Summers*
Chloe Tiell*
Aiden Wong*
Longmont
Kailee Lunzer*
Loveland
Elana Gerhard
Cecilia Velarde*
Morrison
Story Talbert*
Parker
Tyler Seeley*
Peyton
Mikhala Jorgensen*
Platteville
Hallee Sherman
Sanford
Victoria Scheibe*
Strasburg
Courtney Manahan
Cody Wilson*
Stratton
Andrea Hornung*
Thornton
Savana Kascak*
Emma Morelli*
Westminster
Dominique deSeriere*
Elias Uhrich*
Windsor
Dakota Pritchard
Florida
Riverview
Oliver Cushman
Sanford
Kenneth High*
Idaho
Castleford
Shawn Poulson
Zailee Poulson
Wilder
Kaydince Turner*
Illinois
Mascoutah
Emmeline Herman
Indiana
Lebanon
Dalton Michael
Iowa
Clarinda
Madelyn Pulliam*
Council Bluffs
Alyssa Caskey
Josephine Cooley*
Hali Hansen*
Peyton Kvammen*
Grimes
Jillian Rants*
Malvern
Hope Uhing
Missouri Valley
Alec Fichter
Monroe
Caleb Duinink*
Kansas
Arlington
Elizabeth Miller*
Augusta
Chadd Brown*
Bazaar
Landry Hinkson*
Cambridge
Logan Braun
Enterprise
Shelby Banks*
Lawrence
Grace Branson*
Liberal
Millyzient McClure
Olathe
Alexis Linnebach*
Overland Park
Anya Myers*
Perry
Samantha Worthington*
Shawnee
Allison Banks*
Smith Center
Aleah Williams
Topeka
Jake Patterson
Wamego
Hayden Thomason*
Wichita
Zachary Hole
Winfield
Stephanie Bloyer*
Minnesota
Longville
Madison Carpenter*
Missouri
Oregon
Rayleigh Guyer
Warrensburg
Elijah Nappe*
Mississippi
Hattiesburg
Noah Roblin*
Nebraska
Alexandria
Brianna Barton*
Alliance
Chloe Blumanthal*
Diana Kollars*
Sydnie Waldron*
Arapahoe
Savanah Ellis*
Aurora
Carrie Brosman*
Ryan Hunter
Carter Pursley
Julia Yllescas*
Ayr
Emily Boyd*
Beatrice
Jayden Baete*
Carley Leners*
Ava Lovitt*
Bellevue
Brayden Hicks*
Airan Lopez*
Bennington
Caitlin Birk*
Cullen Buscher*
Karson Gansebom*
Ayden Ridder-Koch*
Blair
Eva Dunker*
Ian Groninga*
Brainard
Maria Pytlik*
Broken Bow
Logan McCullough*
Morgan McMeen
Majesta Valasek*
Burwell
Hallee Mann*
Kierra Ostrom
Jase Williams *
Cairo
Allie Ruhl*
Cedar Creek
Samuel Ahl*
Central City
Grant Blodgett*
Charles McGinnis*
Michael Rutherford*
Tanner Schneiderheinz
Cozad
Samantha Myers
Jake Torres*
Sarah Treffer*
Crete
Victoria Vondra*
Doniphan
Karly Varah*
Edgar
Breanna Brennfoerder
Elkhorn
Michaela Fox*
Allison Stratton*
Kaitlin Thiebauth*
Elm Creek
Allison Bauer*
Whitney Bauer*
Elizabeth Lange*
Elmwood
Jenna Davison
Eustis
Cooper Ray
Falls City
Kade Bredemeier*
Fort Calhoun
Avery McKennan*
Fremont
Camden McKenzie*
Bryce Mitzelfelt
Allison Peyton
Ashton Vukson
Reagan Weidemann
Geneva
Claire Kimbrough*
Sydney Schelkopf*
Genoa
Mackenzie Whitlow
Gering
Lily Teeple*
Glenvil
Rachel Hinrichs
Aaron Ochsner
Gothenburg
Patrick Hudson*
Grand Island
Jason Bachle*
Myah Brown*
Nicole Halsey*
Lauren Hauser*
Makinzi Havranek
Morgan Hillman*
Jaden Jurgensmier
Wyatt Kohles*
Alexa Montes
Abbigeal Nielsen*
Chelsea Ramold*
Erick Rodriguez
Kathryn Rohweder*
Ethan Ruff*
Savannah Thornton*
Shiyue Wang*
Effeana Widdifield*
Gretna
Ansley Connolly*
Guide Rock
Tia Gonzales-Hunter*
Hallam
Morgan Wohl*
Hampton
Melinda Montoya*
Hartington
Alison Karnes
Harvard
Celina Chrisman*
Hastings
Angela Amaya*
Tessa Blome*
Anna Cafferty*
Benedict Clark*
Katharine Hamburger*
Daelene Hinrichs
Avery Hyde*
Katyn Kappler*
Destani Knapp*
Kelsie Kohl*
Mckenzie Lloyd*
Dulce Lopez
Carey McGehee
Tyler Ohrman
Naomi Pedroza
Alexandra Richards*
Camry Runyan*
Jett Samuelson*
Tate Schmidt*
Dacey Sealey*
Zachary Sodorff*
Emily Struss*
Hannah Theisen*
Rennick Turner
Cale Uhrmacher*
Thane Waite
Karson Weiss
Hickman
Emma Severson*
Ithaca
Brianna Lemke
Juniata
Hailey Moore*
La Vista
Aynsley Brink*
Amber Renter*
Lawrence
Lily Gomez*
Lawrence
Lane Heikkinen*
Lincoln
Elijah Baker*
Alyssa Broman
Jessica Chartier
Natalia Dick*
Marcus Dustin*
Gatran Gatnoor*
Catherine Heller*
Morgan Krinke
Veronica Pinkerton*
Jaida Rowe*
Kiara Vodehnal*
Olivia Wood*
Litchfield
Lindsi Loos*
Louisville
Cadance Stenger*
Mason City
Caden Holm
McCook
Mary Baum
Xander Hazen
Paxton Terry*
McCool Junction
Madison Gerken*
Mitchell
Cassidy Coalson*
Jenna Sterling
Nebraska City
Renee Williams
Nelson
Erin Cannaday*
Taylor Harrington*
Elizabeth Tillmans
North Bend
Jaxon Wietfeld*
North Loup
Hayden Grint
North Platte
Taylor Empfield*
Madison Grove*
Jack Heiss
Jasmine Smith
Ogallala
Madeline Ketcham
Omaha
Jennifer Alonso*
Jacob Anania*
Paul Bierman*
Kyleigh Boever*
Abigail Dallegge
Shaylyn Heida
Grace Henry*
Evelyn Holmstedt*
Kylie Ketelsen*
Mackenzie Loseke
Makenzie McNeel*
Elizabeth Mills*
Amanda Peterson*
Kelsey Peterson*
Trenton Smith*
Trystan Soby
Kierra Spurgeon
Nisa Thomas*
Asia Tyler*
Macguire Weaver*
Aidan Zimpleman*
Orleans
Brooke Jorgenson
Osmond
Bailey Schmit*
Overton
Braden Kizer*
Wyatt Ryan
Ivey Zimmerman*
Papillion
Emily McDowell
Sophia Summy
Phillips
Kylee Hasselmann*
Pierce
Ashley Pedersen*
Pleasanton
Chase Pawloski*
Ravenna
Shelby Schroeder*
Red Cloud
Ruthanna Johnson*
Saint Helena
Alexis Folkers
Saronville
Kylie Baumert*
Scottsbluff
Mariyah Avila*
Emma Foote
Sidney
Alaina Kuhns*
Stanton
Bailey Patterson*
Superior
Cailyn Barry*
Cailey Hanson*
Sutherland
Brooklyn Elwood*
Molly Kammerer*
Sutton
Kinser Rafert*
Brett Simonsen*
Taylor
Raif Ruppert*
Thedford
Tyler Rath*
Utica
Jacob Bargen
Valley
Miley Prine*
Wahoo
Taylor Stuhr*
Walton
Miriam Miller
Lauren Stull*
Wauneta
Haylee Sandman*
Waverly
Adrianna Bultman
York
Grace Sinsel*
Yutan
Caden Egr
Jenna Krenke*
New Mexico
Albuquerque
Tristin Duff
Los Alamos
Justin Martin*
Roy
Riley Clavel*
Nevada
Las Vegas
Marissa Ruiz*
New York
Oneida
Tanner Dager
Oklahoma
Weleetka
Bailee Worlow
Tennessee
Franklin
Natalie Watson*
Texas
Killeen
Joseph Mahan
Lubbock
Carli Russell
McKinney
Tabitha Wood
Mesquite
Mackenzie Reich*
Missouri City
Ugochukwu Udeh*
Pleasanton
John Zamora*
Sugar Land
Fareed Soluade*
Wyoming
Casper
Garrett Clasen
Emma Kellick
Cheyenne
Tiena Chu*
William Wallace
Guernsey
Mickayla VanNatter*
International Students
The Bahamas
Nassau
Summer Pratt*
Kiante Stuart*
Dominica Lotmore*
Nickytha Georges*
Jermaine Francis
Isaiah Strachan*
North Eleuthera
Kyle Collins*
England
Accrington
Jack Howard
Gosport
Millie Gell
Germany
Aschaffenburg
Lisa Hoeflich
Rheinbach
Nils Schafer*
Wurzburg
Paul Obrusnik*
Mexico
Mexico City
Alessandro Rubio*
Santa Catarina
Marian Garcia Elizondo*
Northern Ireland
Bangor
Ross Murphy
Norway
Krokelvdalen
Mats Solem Bakkeland
Scotland
Livingston
Lewis Bowes
South Africa
Dundee
Frederik Nortje*
Spain
Madrid
Mireia del Val Fernandez*
Switzerland
Jona
Marc Stadler*