Hastings College hosted the Central Regional Science Fair for the Nebraska Junior Academy of Sciences (NJAS) on March 13 in the Morrison-Reeves Science Center. The fair drew 178 students from across central Nebraska.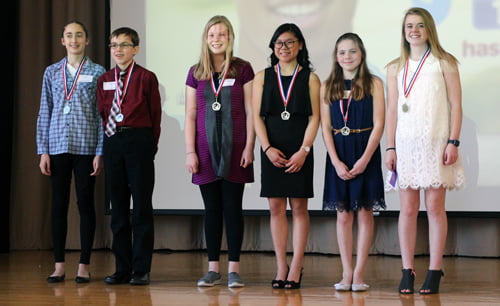 The science fair is split into two divisions. The Junior Division is open to students in sixth through eighth grades, while the Senior Division is open to those in grades nine through 12. This year, there were 66 junior projects and 83 senior projects, with six projects from each division being selected to move onto the state science fair competition April 19.
The top Senior Division projects from the state competition will qualify for the National Science Fair.
The 2018 Central Regional State Qualifiers include:
Junior Division
Samantha Bonifas of Silver Lake School: "Eggcellent Eggs."
David Johnson of Central City School: "Danger Below: Radon Levels in Merrick and Knox County."
Delia Miles of Hastings Middle School: "Do you get what you pay for in a battery?"
Elaina McHargue of Central City School: "Inhibiting Algae Growth in Bird Baths"
Jenna Cecrle of Adams Central School: "Does Prednisone Exposure Cause a Decrease in the Body Length of Fruit Flies?"
Pauline Jonglertham of Hastings Middle School: "Lotion Notion"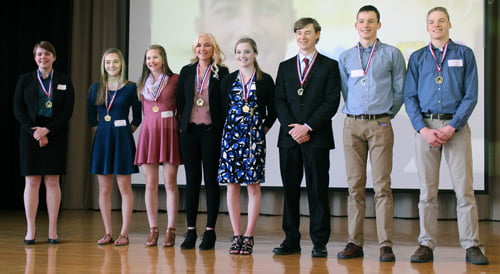 Senior Division
Lexi Anderson and Jayna Stroh of Adams Central School: "Effectiveness of different varroa destructor treatments on apis mellifera hives in South Central Nebraska."
Sydnie Reeves of Central City School: "The prevalence of Baylisascaris procyonis in Merrick County, Nebraska."
Morgan Baker of Adams Central School: "Effects of pharmaceutical waste on Daphnia Magna."
Grant Johnson and Evan Johnson of Adams Central School: "Should you get the flu vaccine"
Tyler Ferris of Central City School: "Performance of Panicum virgatum cultivars at varying levels of competition with Bromus inermis and differing amounts of N. ferti."
Bailey Manhart of Central City School: "Determining the function of glutamate receptors on root growth by exposing Arabidopsis thaliana to DNQX."
Hastings College is a private, four-year institution located in Hastings, Nebraska, that focuses on student academic and extracurricular achievement. With 64 majors and 15 pre-professional programs, Hastings College has been named among "Great Schools, Great Prices" by U.S. News & World Report and a "Best in the Midwest" by The Princeton Review. For more, go to hastings.edu.