As Hastings College launches members of its Class of 2016 into their next adventures, Nebraska's 40th governor, the Honorable Pete Ricketts, will join the celebration as Commencement Speaker.
The son of an entrepreneur and school teacher who was born in Nebraska City and raised in Omaha, Governor Ricketts is expected to address service to one's community with Hastings College's 130th graduating class, as well as congratulate them on their achievements.
Hastings College commencement is Saturday, May 14 at 10:00 a.m. in Lynn Farrell Arena (800 E. 12th Street) on campus.
The College's Baccalaureate service is Friday, May 13, with the Reverend Damen Heitmann, Chaplain to the College, serving as the featured speaker. The event will be held at 6:00 p.m. in First Presbyterian Church (621 N. Lincoln Ave.) in Hastings.
Both Commencement and Baccalaureate will be livestreamed. Links to the livestream and additional information can be found at hastings.edu/graduation.
Bio for the Honorable Governor Pete Ricketts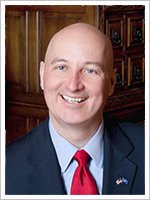 Governor Pete Ricketts was sworn in as Nebraska's 40th Governor on January 8, 2015. Governor Ricketts was first elected to office upon winning the Nebraska gubernatorial election on November 4, 2014. Prior to his election as governor, he worked to support Nebraska entrepreneurs and startup companies.
Born in Nebraska City and raised in Omaha, Ricketts is the son of an entrepreneur and a public school teacher. Governor Ricketts and his wife, First Lady Susanne Shore, have been married for 18 years and live in Omaha with their three children, juniors Roscoe and Margot and freshman Eleanor.
Ricketts graduated from Westside High School before attending the University of Chicago where he earned his bachelor's degree in biology and an MBA in marketing and finance. After graduate school, Ricketts returned to Omaha and worked for Union Pacific before working as a customer services representative in his family's business, a company that would eventually become known as Ameritrade. He went on to hold leadership roles in the company including Senior Vice President of Strategy and Business Development, Senior Vice President of Product Development, Senior Vice President of Marketing, President and Chief Operating Officer (COO). He is also a past board member of TD Ameritrade's Board of Directors.
Ricketts is the founder of Drakon, LLC that supports local entrepreneurs and startup companies. He also serves as a director for the Chicago Cubs baseball team.
Driven by a desire to give back to his community and create education and job opportunities, Governor Ricketts has taken on leadership roles in local and state associations and organizations. Currently, he serves on the boards of the Mid-America Council of the Boy Scouts and the Christian Urban Education Service (CUES). Additionally, he serves as a director for the Children's Scholarship Fund Foundation, a director of the Nebraska Game and Parks Foundation, a member of the Board of Advisors of Opportunity Education Foundation, a member of the Archbishop's Committee for Development, a member of the Knights of Columbus and a Knight of the Holy Sepulchre. Governor Ricketts and his family attend St. Margaret Mary's church.
Bio for the Reverend Damen Heitmann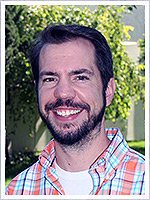 Originally from Victor, Iowa, Damen Wesley Heitmann is 2005 graduate of Wartburg College. Following a year as an AmeriCorps VISTA member Damen attended United Theological Seminary of the Twin Cities from which he graduated in 2009. He is an ordained member of the United Church of Christ and served for four years as the pastor at First United Church in Little Falls, Minnesota.
Damen joined the Hastings College family in 2014 when he became the Chaplain to the college. In this capacity he leads weekly chapel services, works with student groups, coordinates special events such as Faith for Today, sends out silly emails and generally encourages people to consider their place in the universe. When not at the college, Damen spends his time keeping the cat from scratching the furniture, serving on the board of the Hastings Area Habitat for Humanity and keeping up the old monastic tradition of brewing beer.
Hastings College is a private, four-year institution located in Hastings, Nebraska, that focuses on student academic and extracurricular achievement. With 64 majors and 15 pre-professional programs, Hastings College has been named among "Great Schools, Great Prices" by U.S. News & World Report, a "Best in the Midwest" by The Princeton Review and a "Best Bang for the Buck" school by Washington Monthly. For more, go to hastings.edu.