Hastings College physics professor Dr. Brad Peterson and physics students are giving Broncos football fans, stargazers and eclipse enthusiasts — and anyone who would like to come — an opportunity to view the partial solar eclipse on Saturday, October 14.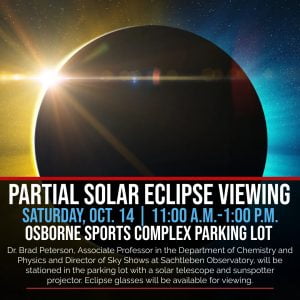 Eclipse viewing will take place outside Lloyd Wilson Field from 11 a.m. to 1 p.m. Peterson and students will be the cosmic guides, offering insights and equipment to safely observe the partial eclipse. Equipment will include a solar telescope, a small solar image projector called a Sunspotter and a limited number of eclipse glasses.
Peterson, who also manages the Hastings College Sachtleben Observatory, can also answer questions about the eclipse and other solar events. The partial eclipse officially begins around 10:20 a.m. and goes until 1:13 p.m.
As the eclipse winds down, the action will move to the field, with the Broncos taking on the Concordia Bulldogs in a football showdown that kicks off at 1 p.m.
Hastings College is a four-year residential college that focuses on student academic and extracurricular achievement. Discover more at hastings.edu.