Hastings College instructor Dr. Bob Fuson was invited to speak at three conferences for his research on the late LeRoi Moore, saxophonist and one of the founding members of the Dave Matthews Band.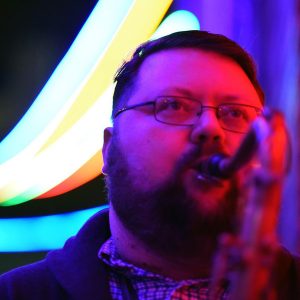 "On LeRoi Moore" was Fuson's presentation's title at the Black Innovation in Music conference in Charlottesville, Virginia, in October 2019. The conference was in celebration of Dr. Roland Wiggins, an iconic figure in jazz education. Fuson, who is instructor of woodwinds, music education and composition, and director of the College jazz band, was invited to speak because Moore was one of Wiggins students.
In January, Fuson was invited to the Jazz Educators Network Conference in New Orleans, Louisiana, to present about Moore again. The conference is highly competitive for both performers and presenters, and Fuson said it was an honor to be selected. "LeRoi Moore – the Unknown Titan of American Music" was the title of Fuson's lecture. It is a combination of biography and analysis designed to present a full picture of Moore.
Fuson said he began to research Moore for his dissertation because the Dave Matthews Band saxophonist opened his eyes to all the possibilities a life in music can entail. Fuson said the group is his favorite band, and Moore his favorite saxophonist, for more than two decades.
During his research, Fuson connected with a number of Moore's friends and family and has a connection with Carter Beauford, the Dave Matthews Band drummer.
Through his research, he found that Moore was a brilliant man who had a desire to stay out of the spotlight. He said Moore changed the way the saxophone is used in popular music, and he never sacrificed his voice or art.
"I am forever grateful that I was able to study and honor the legacy of someone I consider a personal hero," Fuson said.
Fuson also attended the North American Saxophone Alliance Biennial Conference at Arizona State University in Tempe, Arizona, in early March. While there he also performed alongside Dr. Wade Howles, and the two performed new work for two baritone saxophones by Nebraska composer Christina Ensign.
Hastings College is Nebraska's premier private college. A four-year residential college that focuses on student academic and extracurricular achievement, Hastings' student-centered initiatives include providing books, an iPad and a two-week study abroad experience at no additional cost. A block-style semester schedule allows professors and students to focus on fewer classes at a time and promotes hands-on experiences. Discover more at hastings.edu.