Carol Ronin Thompson's paintings will be featured at Hastings College's Art Gallery (711 E. 7th St.) throughout the month of November starting Thursday, November 5.
The public is invited to attend the free opening reception on Thursday, November 12, at 4 p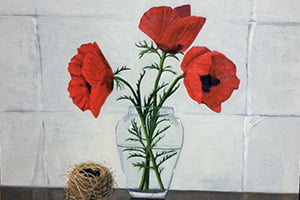 .m.
Thompson graduated from Fremont High School and attended the University of Nebraska-Lincoln where she received her B.A. and M.F.A. She currently resides in a rural home outside of Lincoln with her husband, Art. She also has two children and five grandchildren.
"I paint pictures that reference elements from nature, or other objects that interest me," said Thompson. "I set up those items in my studio and work directly from them. Flowers from my garden and from the ditches, as well as bird nests blown from the trees are some of my favorite objects from nature."
She also said she is fascinated by the translation from eye, or brain, to hand resulting in an image on canvas.
The gallery is open Monday through Saturday, 10 a.m. to 4 p.m. and on Sunday, 2 p.m. to 4 p.m.