Interactive artworks designed for the participants' slow and mindful, somatic engagement are at the center of "Artist From Outside; Take a Breath" exhibition, which is on display November 1 through December 12 in the west gallery of the Hastings College Jackson Dinsdale Art Center (700 E. 12th Street).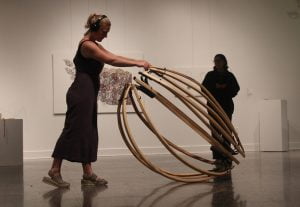 The exhibition features the work of Michael Fortenberry, visiting instructor of visual arts–sculpture, who is an interdisciplinary artist and arts educator interested in collaborative action toward pressing issues of our current times.
The gallery is free and open to the public Monday through Friday from 9:00 a.m. to 5:00 p.m. A reception for the exhibition is scheduled for Friday, November 10 from 6:00 to 8:00 p.m. in the JDAC.
Each sculpture in the exhibition is made to ground the audience in the now and override the strain, pace and overwhelm of 21st century life. "These objects hold thoughtful consideration to the way they receive the human body, an invitation for an extended, healing embrace," Fortenberry wrote in the show statement.
Others can be carefully rolled from one point of stability to the next, every resting position activating a new sound pulled from tones and patterns of nature. These moving sonic sculptures are interlinked — when activated simultaneously, each one alters a single soundscape, unifying the collective.
"I see these calming works as offering a space of resistance to the trauma of overstimulation and the political, environmental and social instability of our current moment," Fortenberry said. "Wood is a constant collaborator in my work, it holds the memories and teachings of its lived experience."
The movable sculptures, "Between Breaths," are intended to be handled and rolled, engaging the body and mind to focus as they shift from movement to a paused point. As the artworks move through space, every stagnant position corresponds with a sound cue that changes the collective soundscape in the headphones participants wear. Each sculpture holds a range of natural sounds, tones and patterns that are connected to soothing the mind or a frantic mind. For this, Fortenberry collaborated with Michael Simonelli, who provided sound programming and music composition.
About Fortenberry
Michael Fortenberry received his BFA from the University of Puget Sound in Tacoma, Washington, focusing on anthropology, sociology and sculpture. He earned his MFA from the State University of New York in New Paltz, New York, with an emphasis in sculpture in 2023. His research explored the intersection of art with our sensory-somatic systems to ease the rise of collective anxiety through body movement and engagement.
Fortenberry has exhibited work throughout the United States, with works in private collections on display in Washington, Colorado and New York. He just completed a six-month residency at the Glasshouse Art.Life.Lab resulting in a permanent outdoor installation, and currently is exhibiting at the Kaatsbaan Culture Park in Tivoli, New York, and Headstone Gallery in Kingston, New York. His work has been published in the Art and America Guide, Inside + Out Upstate New York, I Love New York, and others since the Spring of 2022.
Hastings College is a four-year residential college that focuses on student academic and extracurricular achievement. Discover more at hastings.edu.