The Hastings College Forensics team ended their fall season with 19 events qualified for the American Forensics Association National Speech Tournament (AFA-NST). The team competed at seven different tournaments both online and in person during the fall semester.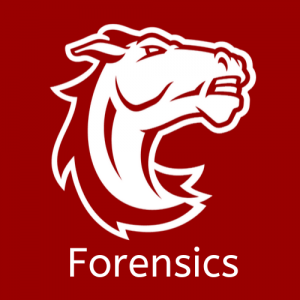 The team started the season off strong at the Bulldog Tournament hosted by Concordia University where they took second in team sweepstakes and had multiple team members across events break to finals and place in the top six.
In the middle of their season they competed at The Norton hosted by Bradley University in Peoria, Illinois. This is usually the largest tournament that the team attends in the fall and this year there were 31 teams and 244 students competing with 639 entries. The Hastings College team held its own with three students advancing to outrounds in five events, taking second place in limited entry team sweepstakes, and having junior Citlaly Quiroz take 4th place in Program of Oral Interpretation.
The team still has a lot of opportunities in the spring to compete, and will start off at the Hell Froze Over tournament hosted by University of Texas at Austin and Bradley University in Austin, Texas January 13-16. They also have the Nebraska Intercollegiate Forensics Association State tournament on February 10-11 and nationals to look forward to.
"Our students have really excelled. We have the majority of our national entries already qualified. In the spring we're looking to fine tune our events and have strong state and national entries," said Jordan Johnson, director of forensics.
The Hastings College forensics team has a long-running tradition of national competitive success, placing in the top 20 at the American Forensics Association National Speech Tournament (AFA-NST) for many of the past 10 years. Most recently, Hastings College placed 11th at AFA-NST 2022.
Current events qualified for AFA-NST, which will be hosted by Santa Ana College in City of Santa Ana, California, April 1-3, include:
Ally Banks, a junior from Shawnee, Kansas, qualified in Program Oral Interpretation, Prose Interpretation and After Dinner Speaking.
Brooklyn Elwood, a junior from Sutherland, Nebraska, qualified in Dramatic Interpretation and Prose Interpretation.
Citlaly Quiroz, a junior from Fort Morgan, Colorado, qualified in Program Oral Interpretation and Poetry Interpretation.
Emma Kellick, a junior from Casper, Wyoming, qualified in Impromptu Speaking and After Dinner Speaking.
Mae Heater, a junior from Bennington, Nebraska, qualified in After Dinner Speaking, Informative Speaking, and Program Oral Interpretation.
Kianté Stuart, a senior from Nassau, The Bahamas, qualified in Persuasive Speaking and Impromptu Speaking.
Natalie Watson, a senior from Leiper's Fork, Tennessee, qualified in Informative Speaking and Dramatic Interpretation.
Nikki deSeriere, a senior from Westminster, Colorado, qualified in Poetry Interpretation, Dramatic Interpretation and Impromptu Speaking.
Hastings College is a four-year residential college that focuses on student academic and extracurricular achievement. Hastings' student-centered initiatives include providing all required textbooks and an iPad, while a block-style semester schedule allows professors and students to focus on fewer classes at a time. Discover more at hastings.edu.