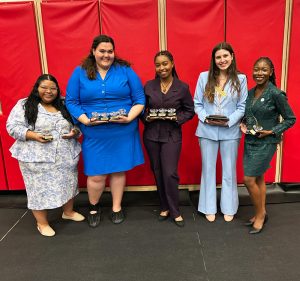 The Hastings College Forensics team finished 14th in the nation at the American Forensics Association's National Speech Tournament (AFA-NST), which was held recently in Santa Ana, California. The five-member team's achievements include an AFA All-American recipient, two national finalists and nine quarterfinal finishes.
Nikki deSeriere, a senior from Westminster, Colorado. was named an AFA-NST All-American during the event. This honor recognizes a select group of seniors for their scholastic achievement, competitive success and dedication to community service. deSeriere is the 21st All-American from Hastings College, continuing the college's streak of having the highest all-time number of AFA All-American award recipients of any school in the nation.
In addition to being named an All-American, deSeriere advanced to quarterfinals in Prose, Poetry, Program of Oral Interpretation (POI) and Dramatic Interpretation (DI).
Kianté Stuart, a senior from Nassau, The Bahamas, placed 6th out of 97 competitors in Persuasive Speaking.
Citlaly Quiroz, a junior from Fort Morgan, Colorado, placed 5th out of 102 competitors in DI. Quiroz also advanced to quarterfinals in Poetry and POI.
Ally Banks, a junior from Shawnee, Kansas, advanced to quarterfinals in Prose, POI and After Dinner Speaking.
Emma Kellick, a junior from Casper, Wyoming qualified three events to the AFA-NST and earned points along with her other teammates toward the team total.
"This is the seventh consecutive AFA Nationals that Hastings has placed in the top 15 overall schools," said Dr. Austin McDonald, associate director of forensics.
"As a first-year director, this team has been a dream to work with. These tremendous women are incredibly dedicated and hard-working. But beyond that, they are some of the kindest and most passionate people in the activity," said Jordan Johnson, director of forensics. "As a coaching staff, we couldn't be prouder of their accomplishments."