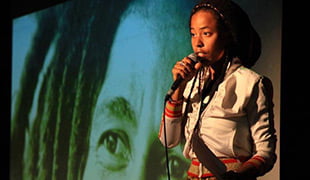 Donisha Rita Claire Prendergast, granddaughter of reggae legend Bob Marley, will explore the topic "Could You Be Love?" during Hastings College's Black History Month keynote address scheduled for Wednesday, February 24 at 7 p.m. The event, to be held in French Memorial Chapel (800 N. Turner Ave.), will be free and open to the public.
An actress, model, dancer and poet, Prendergrast will use the title from one of her grandfather's most famous songs to explore how individuals can be love in a world at war and when they themselves struggle to find balance between spiritual and material wealth.
Bio for Donisha Rita Claire Prendergast
Donisha Rita Claire Prendergast believes that, "If Bob Marley were alive today, he probably wouldn't be making music. There's just too much other work to do in the world. He'd be focused on doing positive work in the community." Donisha makes this bold statement proudly, because as granddaughter of both Bob and Rita Marley, she knows the stories, inspirations and struggles behind these legendary figures better than nearly everyone.
Continuing her beloved grandparent's legacy and message of One Love, Donisha now speaks to audiences through American Program Bureau with presentations which are dynamic, passionate and extremely entertaining. She is, at heart, a true artist whose fresh and vibrant talent spans many disciplines as an actor, filmmaker, musician and public advocate.
As the granddaughter of Bob and Rita Marley, Donisha offers her insight on the amazing lives of "Jamaica's First Family", whose many contributions include the founding of the Bob Marley Foundation, a charitable organization dedicated to helping people and organizations in the developing world. As an accomplished filmmaker, Donisha's role in the Canadian feature length documentary, RasTa, A Soul's Journey, educates audiences on the Rastafari culture – quelling the many misunderstandings and misconceptions about this way of life. This film shows how Bob Marley's eternal message of freedom and compassion is relevant to today's issues of inequality. Donisha explains, "Making the documentary helped me become a little closer to his mission. He was not just a musician, but a freedom fighter."
Her travels throughout the world, from Africa & the Caribbean to India, Japan, Africa and more has exposed her to many lifestyles, perspectives and stories that has helped to influence her patience and ability to relate to a cross-section of audiences. "At the end of the day, we are all souls on a journey… bits and pieces of the same whole."
Recently paired with Ndaba Mandela, Nelson Mandela's grandson, and Jasmine Rand, Trayvon Martin's family attorney, audiences will be the first to hear about "I Am the Change," a new world-wide phenomenon that is empowering today's youth to inspire meaningful change on a global scale.
With her highly motivating allocution, and famous family pedigree, Donisha always proves to be an enlightened beacon of hope for her audiences. She promises an impassioned dialogue on youth, spirituality and the Rastafari culture that will connect with audiences, both young and old.