Museum of Nebraska Art (MONA) curator Karissa Johnson Olsen has organized an exhibition titled "Blast from Future's Past: Art from the 1990s," which is in the west gallery of the Jackson Dinsdale Art Center at Hastings College now through February 2.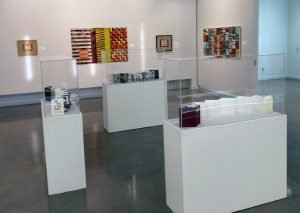 The gallery is free and open to the public Monday through Friday from 9:00 a.m. to 5:00 p.m. The JDAC is located at 700 E. 12th Street in Hastings. A reception for the exhibition is Thursday, January 19 from 6:00 to 7:00 p.m.
"Blast from Future's Past," in reference to the 1999 film "Blast from the Past," is a survey of work that posits many of the political, technological and social developments during this time continue to affect our contemporary world, in many ways creating a recognizable parallel to our unfolding future.
With enough time and distance, cultural history can be searched for beginnings, endings and critical developments. To many, the 1990s may feel like recent personal history, while younger generations view the cultural legacy of the decade with an interest bordering on a disassociated nostalgia. Lingering some 20 to 30 years in the past, the triumphs and challenges of the 1990s were recorded and reflected in the art of the time and may offer insights into ongoing cultural phenomenon.
This selection of artwork from the Museum of Nebraska Art examines several cultural attitudes and political shifts during this turbulent and prosperous decade in the United States, including the rise of climate change science and activism, third wave feminism, increased globalization, widespread digitization, the height of the AIDS epidemic, and a growing angst among America's youth to which artists captured and responded to in artwork from this period.
This exhibition is organized by MONA for the ARTreach program, an outreach initiative designed to provide exhibitions to various communities throughout Nebraska, including both rural and urban communities and those with or without direct access to other arts programming.
Exhibitions for this program highlight work from MONA's collections to increase the visibility of the museum's holdings and educate audiences on diverse topics within Nebraska's art. By fostering visual literacy and a greater understanding of Nebraska's art, ARTreach brings art and perspectives to communities across the state.
Hastings College is a four-year residential college that focuses on student academic and extracurricular achievement. Hastings' student-centered initiatives include providing all required textbooks and an iPad, while a block-style semester schedule allows professors and students to focus on fewer classes at a time. Discover more at hastings.edu.