Casey Molifua, Hastings College instructor of physical education and human performance, will give an Invited Faculty Lecture titled "YOUvsYOU: If You Want to Influence the World, Influence Yourself First" on Wednesday, October 28, at 1:00 p.m. in Lynn Farrell Arena (800 E. 12th Street).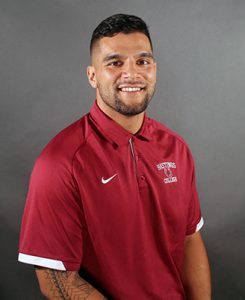 The talk is free and open to the public, but note that face masks are required, and groups are asked to social distance. The talk was originally scheduled for September.
"You are your greatest ally, and you are your greatest enemy," Molifua said. "With life's uncertainties there are only a few things we can control, and ourselves is one of them. There are times we are able to talk ourselves into taking the leap of faith, to live vulnerably and to conquer discomfort. On the other hand, we can talk ourselves out of living courageously, or we let our insecurities turn us away from opportunities."
Reflecting on his own experiences, Molifua will share how leadership starts with being a self-leader.
"I'll share some of the lessons and habits I've learned," he said, "because when you want to influence the world, you have to influence yourself first."
Every year, Hastings College students select two faculty members to present campus-wide lectures on the professors' topic of choice. The Invited Faculty Lecture is a tradition dating back to 1967 and is considered a prestigious honor.
Molifua's lecture was initially scheduled for the spring of 2020 as part of the 2019-20 academic year but was postponed to the fall.
The 2020-21 Invited Faculty Lectures are also scheduled. Bruce Batterson, associate professor of business administration, will give his talk on November 11, and Jessica Allen-Pickett, assistant professor of teacher education, will share her lecture on January 27, 2021.
Hastings College is a four-year residential college that focuses on student academic and extracurricular achievement. Discover more at hastings.edu.