The Hastings College Department of Visual Arts kicks off its summer exhibition season with two simultaneous shows: "Earth, Memento and Metaphor" by Mary Vaughan, and "Translation" by Amy Sandeen and Jack Sandeen.
Both shows open Friday, June 1 in the Jackson Dinsdale Art Center (JDAC). A gallery reception is that day from 5:00 to 8:00 p.m., and Vaughan is also hosting "coffee with the artist" Saturday, June 2 from 9:00 a.m. to 12:00 p.m.
Regular summer gallery hours are Monday to Thursday from 9:00 a.m. to 5:00 p.m., and Friday from 9:00 a.m. to 12:00 p.m.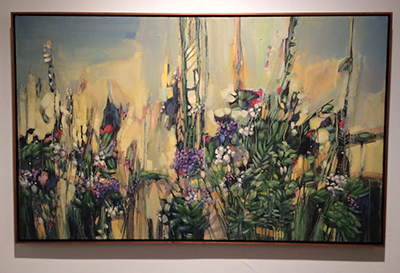 Vaughan is a 1982 graduate of Hastings College, where she earned her degree in art and literature. She also holds a Master of Arts and Master of Fine Arts degrees, and is currently working as a full-time painter in Santa Rosa, California.
Vaughan's work focuses on nature, landforms and earth entities. As a narrative yet abstract painter, she strives to evoke meaning in her paintings with visual metaphor.
"Art goes beyond the paint, the material or the depiction. It is something connected to authenticity, individual definition," Vaughan said. "My abstractions have to do with what I feel about the earth and how it ties into my personal experience."
Vaughan's exhibition is on display through June 29.
Amy Sandeen is a Hastings, Nebraska, native and the executive director of Prairie Loft. She is a photographer and musician, and loves sharing outdoor experiences with others. Her father, Jack Sandeen, is also an active member of the Hastings community, particularly as an artist and a craftsman.
Their collaborative show explores perspective, interpretation and the "change to a different substance, form or appearance," especially within the natural world.
"We are constantly learning the language of life and seeking meaningful translations to help make sense of the world," Amy Sandeen said. "Light changes, moods swing and objects evoke feelings that differ for each of us. Each perspective is unique, and each perspective is valid."
The Sandeens' show will be on display through August 3.
Personal tours of the JDAC can be scheduled by calling 402.461.7396 or by emailing ckimberly@hastings.edu.
Hastings College is a private, four-year institution located in Hastings, Nebraska, that focuses on student academic and extracurricular achievement. With 64 majors and 15 pre-professional programs, Hastings College has been named among "Great Schools, Great Prices" by U.S. News & World Report and a "Best in the Midwest" by The Princeton Review. For more, go to hastings.edu.