Students inducted into Alpha Chi include Ally Banks, Riley Clavel, Tia Gonzales-Hunter, Brooke Jorgenson, Betsy Miller, Lindsey Pratt and Haylee Sandman. Not pictured includes Lance High, Lauryn Metz, Tate Schmidt and Lauren Stull.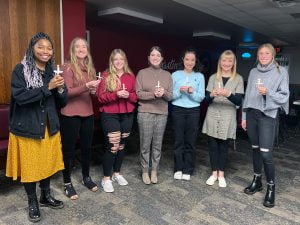 The Hastings College chapter of Alpha Chi, the all-discipline collegiate academic honor society, inducted 11 students during its recent fall induction service earlier this summer.
The purpose of Alpha Chi is to promote academic excellence and exemplary character among college and university students and to honor those who achieve such distinction. Students from across all academic disciplines who are in the top 10 percent of their class are invited to join.
Students with membership in Alpha Chi help host activities on campus such as Alpha Chi Trivia Night, Bronco Brain Buster Quiz Bowl and Academic Showcase.
The Hastings College chapter was established in 1949 by Frank Weyer and Ruth Harris. Weyer was dean of the College at the time and Harris was the librarian.
This year's Alpha Chi inductees are listed below.
Ally Banks of Shawnee, Kansas
Riley Clavel of Roy, New Mexico
Tia Gonzales-Hunter of Guide Rock, Nebraska
Lance High of Lake Mary, Florida
Brooke Jorgenson of Orleans, Nebraska
Lauryn Metz of Littleton, Colorado
Betsy Miller of Arlington, Kansas
Lindsey Pratt of Denver, Colorado
Haylee Sandman of Wauneta, Nebraska
Tate Schmidt of Hastings, Nebraska
Lauren Stull of Walton, Nebraska
Hastings College is a four-year residential college that focuses on student academic and extracurricular achievement. Hastings' student-centered initiatives include providing all required textbooks and an iPad, while a block-style semester schedule allows professors and students to focus on fewer classes at a time. Discover more at hastings.edu.