Hastings College Lecture Series Student Symposium
The Mission of the Hastings College Lecture Series is to encourage and provide financial support for extraordinary artistic, cultural and academic experiences for the Hastings College community. The Student Symposium Committee focuses on one topic and brings to campus a variety of speakers, performers and experiences related to the current year's theme.
All speakers are on Wednesday, October 14 — via Zoom.
The 2020 theme is "Breaking Barriers: the 19th Amendment and Beyond."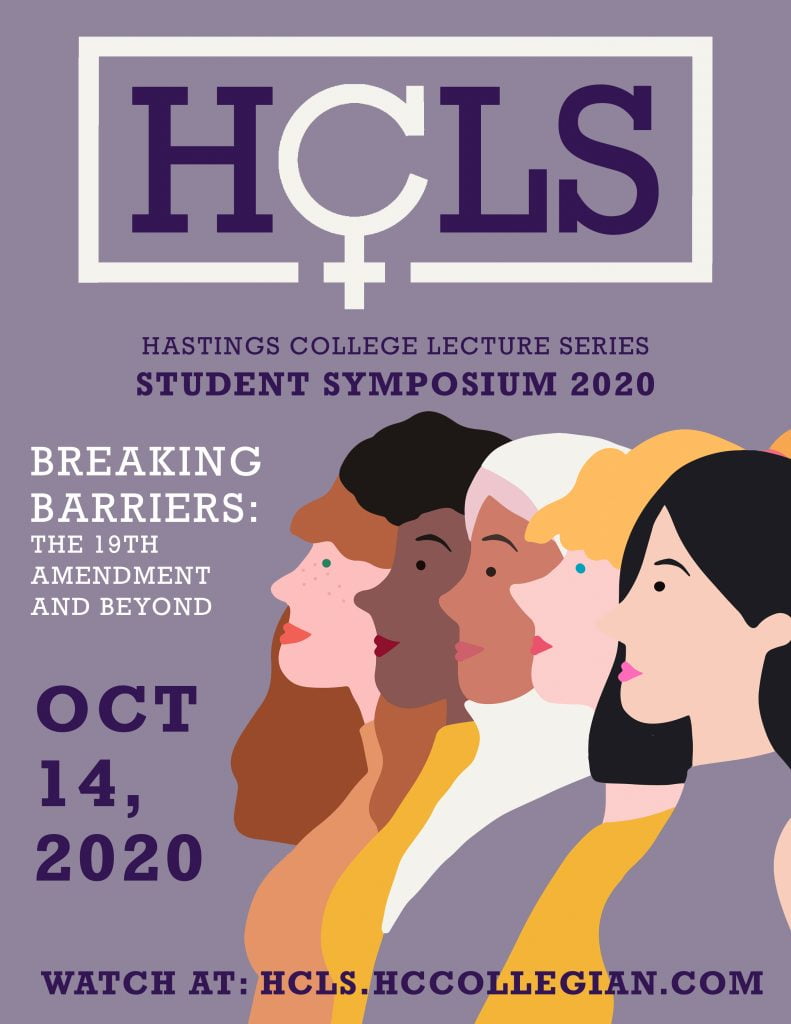 Schedule for Wednesday, October 14, 2020
9:00 a.m. — Cara Romeike, "Women in Sports"
Romeike is the head women's wrestling coach at Hastings College. This is the inaugural season for women's wrestling at the College. She was previously head girls wrestling coach at Cyprus High School in South Jordan, Utah. Romeike earned a biology degree and wrestled collegiately at the University of Jamestown, where she was a three-time captain, two-time conference champion and NAIA National Runner-Up in 2019.
10:00 a.m. — Jane Kleeb, "Women in Politics"
Kleeb, chair of the Nebraska Democratic Party, is an experienced grassroots organizer, manager, author, political strategist and nonprofit entrepreneur. She led a statewide healthcare reform project called Change That Works, and founded the grassroots group Bold Nebraska leading farmers, ranchers and Native allies in an effort to stop the Keystone XL pipeline.
11:00 a.m. — Pastor Craig Paschal, "Sanctuary and Hope: The Struggles and Joys of Protecting Society's Most Vulnerable"
Paschal is the pastor at Mancos United Methodist Church (MUMC) in Mancos, Colorado. MUMC is a reconciling church, welcoming people of all sexual orientations, and a sanctuary church, welcoming immigrants, documented or undocumented. In early 2017, Paschal welcomed Rosa Sabido, an undocumented immigrant under the threat of deportation, to take sanctuary in the church. His daughter, Andie Paschal '19, is a Hastings College graduate.
12:00 p.m. — Alicia Reisinger, "Work Differently and the Local Girl Gang"
Reisinger started her business, Wax Buffalo, with $100 and a late-night work ethic to pour candles while her children slept. Wax Buffalo candles are made with the purest American-made soy wax that can be found in more than 80 stores, including Whole Foods. Reisinger will explore what is like to build a small business and when you should or should not throw in the towel.
1:30 p.m. — Ayana Evans, "Women in Art"
Evans is a New York City-based performance artist. She received her Masters of Fine Arts in painting from Temple University and her bachelor's in visual arts from Brown University. She has performed at El Museo del Barrio, The Barnes Foundation, The Bronx Museum, Newark Museum, the Queens Museum and countless public spaces. Evans will dig deep into how she uses her performance persona to embolden others to take action against injustice and to be more themselves.
2:30 p.m. — Dr. Catherine Biba, "The 19th Amendment: A Monumental Accomplishment"
Biba is an assistant professor of history at Hastings College. She teaches a wide variety of courses in U.S. history, history of women, the U.S. civil war and more. Biba will explore the story of how the 19th amendment was passed by monumental women.
3:30 p.m. — Ashley Kuhn and Maranda Adams, "Women in Business"
Kuhn and Adams are the president and vice president of the Blair Freeman Group, the only minority-owned, woman-owned Class A contractor in Nebraska. The duo opened their company in August of 2018, and completed 38 projects worth about $14 million in their first year. They will explore the barriers they've broken through their business.
7:00 p.m. — Fereshteh Forough, "Building Afghanistan 2.0 with #AfghanGirlsCode."
Forough was born as a refugee and faced discrimination throughout her life. She was even denied an education. Now, as a woman in technology, she has faced backlash and is a strong advocate for women's education. Forough developed Code to Inspire to address gender inequities in STEM and empowers women in Afghanistan.
Student Symposium Committee Members
Sam Bosle – Co-chair 
Samantha Burke – Co-Chair
Courtney Hanson 
Emma Downing
Emma Redinger 
Jordan Isamiel 
Kiante Stuart 
Megan Dlouhy 
Melbourne Palmer 
Nikki DeSerier 

Shane Smith 

Violet Moreia
Faculty Sponsors
Dr. Kittie Grace
Dr. Jessica Henry