Last summer, alumni-sponsored internships allowed a biology major to research coral colonies in Florida, a marketing major to create a social media campaign for a soap manufacturer and a broadcasting major to produce videos for athletic scoreboards.
"Alumni's willingness to provide career and job search expertise is incredible," said Kim (Nowak) Graviette '83, director of Career Services. "We encourage students to connect with alumni for informational interviews to learn about their careers and gain advice. Alumni also host internships, participate in career events and provide mock interviews."
Research shows that employers place a high value on internships and other kinds of experiential learning. In a 2015 survey conducted for the Association of American Colleges and Universities, 94 percent of employers said they were more likely to consider hiring recent college graduates who have completed an internship or apprenticeship.
"Internships, part-time jobs, service learning and practicum experiences all provide the foundation employers are seeking," Graviette said. "Students with valuable experiences like these are more competitive in the job market. In fact, many organizations use internships to identify talent and evaluate students as future employees."
Interns bring fresh perspectives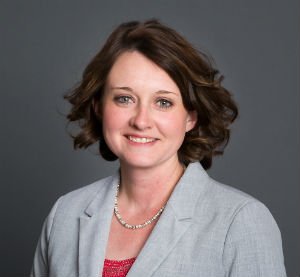 Danielle (Bernt) Wagoner, membership and communications director at Lochland Country Club and 2008 Hastings College graduate, has supervised eight Hastings College marketing interns since starting her job a decade ago.
"Interns have been extremely helpful not only in completing my task list but to the club overall," she said. "They bring refreshing views on things we have going on at the club and give them a new spin. Having them here brings energy and new ideas to the team."
In addition to sponsoring interns, Wagoner participates in Hastings College career fairs, conducts practice interviews and notifies Career Services of seasonal and full-time job openings. She also assists the Department of Business and Economics with teaching students proper etiquette at business dinners.
A media production major as an undergraduate, Wagoner completed an internship at Five Points Bank of Hastings, where Terry Anstine '84 is president, and a service project at Heartland Pet Connection with College friend Judy Hoch. These experiences inspired her to give back as an alumna.
"I would strongly encourage alumni and others to get involved. The college is a huge asset to the community," she said.
From internship to full-time career
A sports internship at the Hastings YMCA his senior year led to a full-time position for Ty LeBar '16, who now serves the YMCA as sports director.
"While I was interning at the Y, I learned the ins and outs of working in sports," he said. "Because of my internships [at the Y and at the Fellowship of Christian Athletes], I was able to gain enough experience to be offered a job as sports director."
In his current role, LeBar supervises sports interns and gives them opportunities to gain as much experience as possible.
"Our interns are just as important as our full-time staff," he said. "We expect them to exemplify our YMCA values, going above and beyond for our customers and helping us achieve our goals through hard work and honesty. Not only do interns gain experience for themselves, but they also help run our programs effectively."
Tapping into the alumni network
Matt Fong '05, associate vice president for alumni relations, encourages alumni to remain active on LinkedIn, which he calls a valuable tool in the college's efforts to connect students with alumni around the world.
"Alumni need to have their Hastings College education information listed within their LinkedIn profile, and then they will automatically appear in the alumni list through the Hastings College page," he said. "The Alumni Office also maintains a 'Hastings College Group' page as a resource for students who want to pose questions or share information with connected alumni."
The Student Alumni Association, a group preparing students to become engaged and active alumni, recently partnered with Career Services to arrange on-site tours and career conversations between students and alumni at the alums' places of employment. Faculty members also connect with alumni for class presentations, group projects, internships and service learning.
Alumni who want to assist students as they explore careers should contact Graviette or Employment Advocate Laura Matthias.
"Career Services would love to receive and promote more alumni-connected internships and job vacancies, whether local or out of state," Graviette said. "We have students from all over the country and would like to identify more summer internships in Nebraska, Colorado, California, Arizona and, well, everywhere! We can't guarantee that a student will apply, but we can guarantee that we will go the extra mile to find qualified and interested students."
You can share your internship or job opportunity through this online portal, by calling Career Services at (402) 461-7387, or by emailing kgraviette@hastings.edu.
By Jake Konen, a senior marketing major from Hastings, Nebraska