Hastings College Scholars Academy
Hastings College Scholars Academy
History
Medieval Russia: Rise of the Tsars!
Students in this class will study the creation of Russia, a place that started as a handful of Slavic-speaking towns protected by Viking warlords and became the largest country in Europe, ruled by an unquestioned absolute monarch. Students will begin learning Russia's unique language, come to understand Russia's unique form of Christianity, and understand  how a series of remarkable warrior princes paved the way for the absolute monarchs called tsars. Language Study, geography, literary analysis and historical analysis.
Instructor: Dr. Robert S. Babcock, Professor of History, Hastings College
Robotics
Robotics
In this class, students will design, build and program robots in an advanced hands-on classroom structure. Students will begin to learn the basics of coding via a LabView format, with the main focus on NXT Lego robots, and within an Arduino (a coding language similar to C++). Fun highlights of the course include a battle-bot soccer game with the CEENBots, the building of a Vincent Van Gogh Scribble Robot out of household material, learning of 3-D modeling software and associated 3-D printing, design and development of a robotic hand, and construction and launch of water bottle rockets. At the end of the week, the students will be challenged to use what they've learned to successfully navigate a giant maze with the sensor attachments of the NXT robot.
Instructor: Jordan Borrell, a Hastings College graduate and Ph.D. candidate in Bioengineering at the University of Kansas
Science
Nutrition
Are you hungry? What would you like to eat? How far will you have to go to get whatever it is that you want to eat? Have you ever wondered where your food comes from or how it gets from the field or orchard or farm to you? During your week at HCSA, we will explore different food systems and learn more about how you, your family, your friends and others get access to food…both locally and globally. We will be visiting a few places around the Hastings area and talking to individuals directly and indirectly related to the process of making sure our food is wholesome and safe.
Instructor: Dr. Susan Oliver, Nutrition Instructor at Central Community College
Genetics
In this class, students will play with the inheritance of simple and complex genetic traits. In addition to exercises that distinguish genetic make-up from physical appearance, we will talk about genes, what they are made of and how we know. Students will isolate DNA from their own cells and from other sources. With the DNA isolated, we will use PCR and electropho­resis, both techniques of modern forensics and molecular biology, to determine specific DNA make-up for the ability to taste a particular compound.
Instructor: Dr. John Bohmfalk, Professor of Biology and Chemistry, Hastings College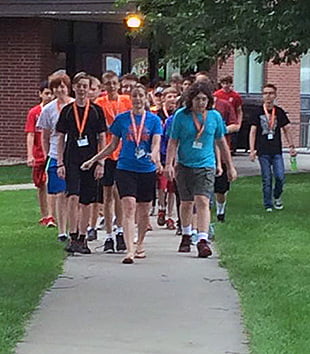 Opening Day • Sunday, June 23
3:00-3:45 p.m. — Residence Hall check-in
4:00-4:30 p.m. — HCSA welcome to students and their parents in French Memorial Chapel
4:30-5:00 p.m. — Teachers meet with students and parents in their classrooms
5-5:30 p.m. — Parents depart and students get settled in their rooms
5:30-6:30 p.m. — BBQ and games for students/ staff on lawn behind Hazelrigg Student Union
6:30-7:30 p.m. — Social groups
7:30-8:30 p.m. — Opening class (classrooms)
8:30-9:30 p.m. — Social groups
10-10:30 p.m. — Residence hall time
10:30 p.m. — Lights out!
Daily
8:00-8:30 a.m. — Breakfast
8:30-11:30 a.m. — Class
11:45 a.m.-12:15 p.m. — Lunch
12:30-3:30 p.m. — Class
3:30-5 p.m. — Organized activity
5:30-6:30 p.m. — Dinner
6:30-7:15 p.m. — Social groups
7:30-9:30 p.m. — Evening group activity
9:30-10:30 p.m. — Residence hall time
10:30 p.m. — Lights out!
Final Day • Friday, June 28
3:00 p.m. — Residence hall checkout/parents pick up students
Registration Instructions
Registration will remain open until the program reaches capacity, but we encourage the schedule below to guarantee your scholar a place. Registration is complete when the registration form and full payment or a $100 deposit are received.
Register online here » (coming soon)
Note: Returning scholars do not need to complete eligibility requirements in the registration form.
Registration Deadline for 2018
May 14 or until classes are full
All Applications Due, with total fee ($550)
Apply and submit your deposit by May 14. The total registration fee of $550 is due by May 26 for this year's Academy.
The program fee includes tuition, room, board, activities and professional staff and educators. An optional outing to Trapped Downtown, an escape room experience, is an additional $20.
If you have a student on the free or reduced lunch plan, we have scholarships to help offset the cost. Just let us know when you submit the application.
---
Questions?
All questions for the Hastings College Scholars Academy should be directed to:
Dr. Constance Malloy, HCSA Director
Department of Languages and Literatures
Hastings College
710 N. Turner Avenue
Hastings, NE  68901
cmalloy@hastings.edu

Checkout our Facebook page to stay up to date with HCSA and view photos and activities from previous years.
Camp Administration
Constance Malloy, Ph.D. (director), Professor of English at Hastings College. She has taught or directed at HCSA for 15 years.
Tessie Boudreau, M.A. (co-director), Literacy Facilitator for Papillion-LaVista Schools. She has served as an Assistant Director and RA for HCSA for 21 years.
Former participants give the Scholars Academy rave reviews!
"I met so many new friends!"
"I wish it were two weeks."
"Awesome teachers."
"It's the best camp in the world."
"The field trips were a blast."
"I really learned a lot, wish I could come back next year."