Judy Sandeen Nursing Skills Lab
As Director of Campus Health Services from 1978 through 2007, Judy Sandeen transformed how Hastings College served its students. In shifting from a strictly reactive health care model to include proactive health education through peer educators, she empowered students to take responsibility for their health and well-being.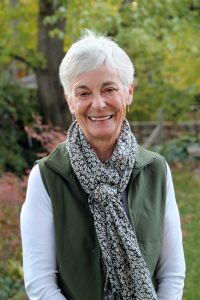 Hastings College seeks to honor Judy's legacy of promoting hands-on health education by naming the nursing skills lab at the Bryan College of Health Sciences education center in Hastings in her honor.
The Judy Sandeen Nursing Skills Laboratory will include four beds to allow students to become proficient in bedside nursing techniques such as taking blood pressures, placing IVs, checking heart rates and the myriad of things nurses do.
Complete the form below to make a gift to support the Judy Sandeen Nursing Skills Laboratory. The goal is to raise $50,000 by March 15, 2023.
More information about Hastings College' partnership to address South Central Nebraska's nursing shortage with Bryan College of Health Sciences and Mary Lanning Healthcare is available here.
For the news release about the campaign, including a bio of Judy Sandeen, click here.
Joylene (Sack) '96 & Lester Allison
Jeremy Arensdorf '03
Kristi (Hawkins) '02 & Andrew Avery
Charlie & Margaret (Hoff) Bacon '63/'63
Kaea (Long) '94 & Guy Beresford
Kendra Bigsby '99 & Tom Sweeny
Kris Brenneis '92 & Robby Shortridge
Katie Gates Brett '94 & Bill Brett
Rick Bristol '98 & Eric Appleton
Briana Buban '03
Kenzie Choquette '02
Kim Dinsdale
Jim & Marcia (James) Donley '77/'84
Phil & Donna Dudley
Christie (Mudder) Einspahr '78
Jessica (Thompson) & Noah Elmshaeuser '10/'10
Jillian (Heiden) & Brady Fiskenscher '08/'08
Courtney (McNulty) '06 & Dominic Freiburger
Stephanie Furrer & Scott Pittsey
Sue Goodrich '74
Ron Devish  & Judy (Hubbell) Hagge '63/'63
Hastings Corporation
Dee and Jerri Haussler
Brandi Holys '01
Roger '85 & Karen Hohnstein
Don Jackson '70 & Beverlee Nelson
Tiffany James '03
Katie (Koopmann) & Kris Kluver '02/'02
The Koozer Family
Fallon '05 & Blaine Kreikemeier
Chelsea LeMar '07
Lyndsy (Overfelt) Lindblom '04
Ginny & Will Locke '63/'61
Diane (Brush) & Eric Lowry '68/'68
Due Ludington '91 & Brain Olgee
Roxanne Mailloux '92
Jarrod McCartney '03 & Rachel Olsen
Roger McGill '63
Kristin (Hartigan) '04 & Matt Milner
John & Karen Morey '70/'70
Todd '04 & Crystal Nielsen
Sarah Nottage-Tacey '04/MAT '09
Tammy Orthmann
Roger '69 & Carolyn Pool
Joe Prickett '18 & Abbey Kutlas-Prickett
Doug and Deb (Glenn) Rasby '74/'77
Judy and Rich Reimer
Ann Goding Sauer '06 & Bobby Sauer
Jenn Schmidt '97
Jeongin '83 & Eunsoon Suh
Mike '74 & Kris Trader
Joe '05 & Holly Vanderpool
Annette Vargas & Brad Davis '16
Pedro Vizoso & Bea Marino '15
Scott '94 & Wendell Wallace-Juedes
Phyllis Ziemba
Help us honor Judy's legacy by giving today!