The Hastings College Bronco Baseball team has begun a new era under Coach Joel Schipper. Offer your support as they seek to restore the team to glory with your gift to purchase new team equipment. Our goal is to raise $5,000 from alumni and friends like you!
Thanks to a Bronco Baseball booster, each dollar you donate by September 30 will be doubled. For example, your gift of $50 becomes a $150 gift to Bronco Baseball.
Show your pride for Bronco Baseball. Make your gift today!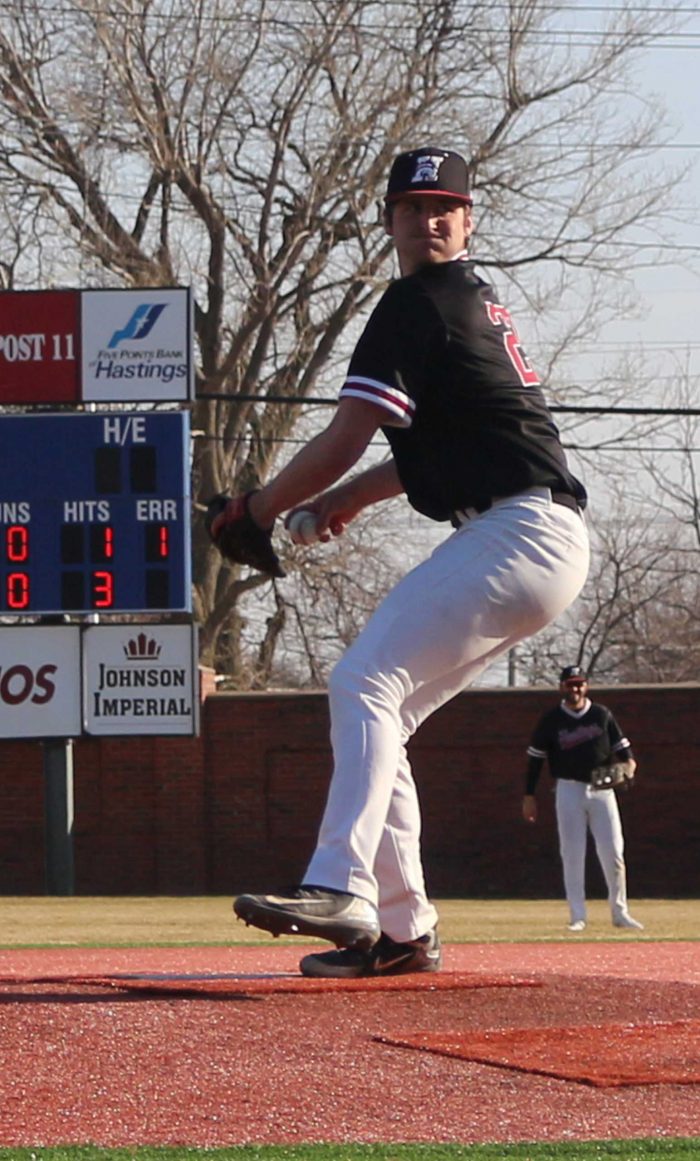 Kylie Adden
Wes Anderson '18
Jim and Traci (Rosberg) Boeve '93
Daniel Bolling
Jason Bredemeier
Jim Brichachek
Jason Cafferty '96
Katherine Callahan
Leonard Clasen
Josiane Dominguez
Kelly Driscoll
Jennifer Duensing-Crosbie
Robyn Duensing
Tobe Duensing
Anthony Espinoza
Diane Fegter
Douglas Fitzgerald
Dawn Fichter
Drake Fortner
Gary and Susan (Herbek) Freeman '93/'94
Ryan Gardner '14
Melissa Grote
John Hansen
Jessie Harris
Jim and Diana Harris
Nicole Hartman
Clyde Hermann
Matt Hoeke
Mattison Hogrefe
Timothy Hoos
Sonia Howard
Chad Jacobson '94
Kelley Jarzynka
Scott Jarzynka
Molly (Reynolds) and Tom Johnsen '94/MAT '06
James Kissler
Steven Kissler
Thompson Koch
Jeff Koolen '96
Matt Krontz '21
Arlen Langvardt '76

Brandon Lovato
Catrina Lucero
Maynard Manka
Sandra Masur
Mark McKenzie
Tammy McKenzie
Ann Mellander
Jennifer Metz
Melody Merritt
Betty Mlejnek
Casey Molifua '15/MAT '17
Melissa (Becker) and Tim Moore '01/'01

Sydney Mullin
Ann Obermiller
Jeff Ohnoutka
Mindy Ohnoutka
Paul Otto
Lila Peterson
Ben Reimer '14
Doug Rezac
Scott Rezac
Karen Rosse
Laurie Schilling
Leah Schipper
Brenda Schroeder
Amy Shepherd
Marcus & Lisa Smith
Justin Soto
Lonnie and Peggy Staab
Nathaniel Story
Frank Strnard, Sr.
Lisa Saunders
Farrah Smilanich
Alicia Stewart
Michelle Tinant
Ed Uehling '67 
Amy Velasquez
Crystal Vohl
Michelle Welsh
Robert Welsh
Stefan Welsh '11
Carlos Walker '92
Micah Wasson
Rochelle Wieman
Corey Wolesensky
Dan Yost '72
Help us raise money for the Bronco Baseball team!
Our goal is to raise $5,000.